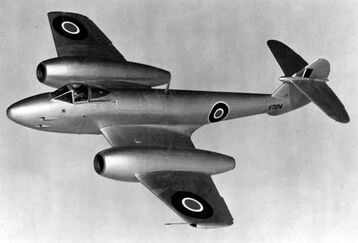 The Gloster Meteor was a British jet-powered military fighter in the Royal Air Force during World War II. It is mostly famous since it was the very first operational jet aircraft on the Allies' side. The British finally had a true practical weapon to take down the Luftwaffe's Messerschmitt Me-262 Shwalbe (German for Swallow).
History
Developmwnt
Developed to meet the requirements of Specification F.9/40, which called for an operational jet fighter, the first Meteor to fly (actually the fifth prototype airframe) first flew on 5 March 1943, powered by de Havilland H.1 turbojets in place of the intended Wittle W.2Bs.[N 1]
The eight prototypes[N 2] were followed by 20 pre series aircraft designated as Meteor Mk Is, each powered by a pair of 1,700 lb st (771 kg) Rolls Royce Welland (W.2B/23C) turbojets, with the first of these making it's initial flight on 12 January 1944.[1] Entering RAF service on 27 July 1944, most of the Mk Is served with 616 Squadron,[3] with one example being transferred to the United States in exchange for a YP-59A.[N 3]
It was not officially retired from the military until the 1980s since it was being used as a target tug. Their were 3,497 planes built from 1944 to 1954. It saw some service in late WWII and also participated in the Korean War.
Specifications (F.8 Meteor)
Crew: 1
Length: 44 ft 7 in (13.59 m)
Wingspan: 37 ft 2 in (11.32 m)
Height: 13 ft 0 in (3.96 m)
Wing area: 350 ft² (32.52 m²)
Empty weight: 10,684 lb (4,846 kg)
Loaded weight: 15,700 lb (7,121 kg)
Powerplant: 2 × Rolls Royce Derwent 8 turbojet engines, 3,500 lbf (15.6 kN) each
Max. Speed: 600 mph (965 km/h, Mach 0.82) at 10,000 ft (3,050 m)
Range: 600 mi (522 nmi, 965 km)
Service Ceiling: 43,000 ft (13,100 m)
Climb rate: 7,000 ft/min (35.6 m/s)
Wing Loading: 44.9 lb/ft² (149 kg/m²)
Thrust to Weight Ratio: 0.45
Time to altitude: 5.0 min to 30,000 ft (9,145 m)
Guns: Four 20 mm Hispano cannons
Rockets:  Can hold up to sixteen 60 lb 3 in. rockets or eight 5 in. HVAR rockets under outer wings
Bombs: two 1.000 lb (454 kg) unguided bombs
References
Notes
↑ There is some confusion regarding the serial of the Meteor sent to the United States. The entry on page 211 of British Military Aircraft Serials 1912-1966 states 'EE240/G to U.S.A'. However, the photograph on page 250 of the Complete Book of Fighters shows a US marked Meteor with serial EE210/G (The /G suffix indicates an aircraft that must be kept under constant armed guard while on the ground).[1]
Sources
↑ 1.0 1.1 1.2 Green, William and Gordon Swanborough. The Complete Book of Fighters. Salamander Books. 2001. ISBN 0 84065 269 1 Page 250
↑

World Aircraft Information Files Aviation Partwork. Midsummer Books Ltd. File 895 Sheet 7 (A-Z of Aircraft:G - Gloster Mars, Nighthawk, Nightjar & Sparrowhawk (cont.) to Goodyear GA-1 and GA-2 Duck)

↑ Lake, Alan. Flying Units of the RAF. Airlife Publishing Ltd. 1999. ISBN 1 84037 086 6. Page 271