The Grumman F11F (since 1962 F-11 Tiger) was a single seat, carrier based fighter aircraft, which was used by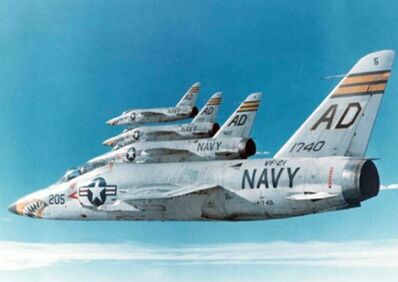 the United States Navy in the 1950s and 1960s.
In the year 1952, Grumman began working on a further development of the Grumman F9F Cougar. The aircraft should be able to reach supersonic speeds with the use of the Area rule. To be used on aircraft carriers it had foldable wingtip sections. It was powered by a Wright J65 turbojet engine. The Navy Bureau of Aeronautics ordered two prototypes, which were called XF9F-8 and later XF9F-9. The first flight was on 30th July 1954, but without use of afterburner. The second prototype reached with afterburner supersonic speed, being the second aircraft of the US Navy doing that, the first one was the Douglas F4D Skyray. In April, in the same year, the Tiger received the name F11F-1.
In the year 1958 Grumman modified two F11F-1 into F11F-2 (Nr. 138646–138647). Those received a new
vertical stabilizator, enlarged intakes and a new engine, the General Electric J79. The first flight of this derivative was on 25th May 1958; the Super Tiger was able to reach supersonic speeds of Mach 1.44. After some more modifications, like changes on the engine, the F11F-2 was able to fly Mach 2. But because the new prototype was too heavy for carrier service, they were renamed to F11F-1 and weren't ordered anymore.
The Luftwaffe (German Air Force) and the Japanese Air Self Defence Force, as well as the Royal Canadian Air Force were interested in buying the F-11 Tiger, however they received the F-104 Starfighter.
Community content is available under
CC-BY-SA
unless otherwise noted.