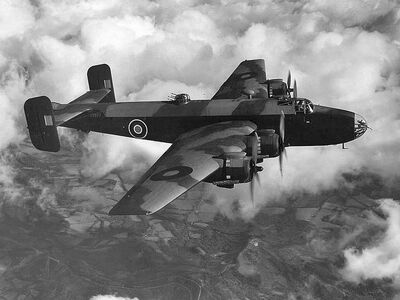 The Handley Page H.P.57 Halifax was a multi engine, British bomber aircraft, that was mainly used by the Royal Air Force, but was also exported to many other countries. The Halifax was first flown on 25th October 1938; the first definitive aircraft had their first flights in October 1940. The Halifax became quickly the most important aircraft of the Royal Air Force's bomber fleet.
Variants
[
]
The Mk.II (H.P-59) entered service in July 1941; the main difference to the Mk.I was an additional anti-aircraft gun tower, giving it a

better defensive armament.
The Mk.III appeared in August 1943 and was equipped with more powerful Bristol Hercules radial engines and it had a greater wingspan.
The Mk.IV remained an unfinished project.
The next variants were the Mk.V with 1,675 hp Hercules 100 engines and the Mk.VII, which was powered by the same Hercules engines as the Mk.III. These were the last bomber variants and thus only small numbers have been built.
The last Halifax variants were the civilian Mk.VIII (H.P.70 Halton) and the Mk.IX (H.P.71), which was used as a personnel carrier, of which the last aircraft was delivered in November 1946.
Until the end of the year 1946, about 6168 Halifax bombers have been built, most of them were Halifax Mk.III of which 2,091 were built.