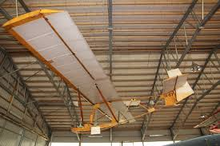 The Harakka (Magpie) is a Finnish single-seat primary glider developed in 1944-45. It is based on the Soviet Antonov U-s3.
Development
Edit
By 1938 the Schneider Grunau 9s in widespread use were judged as obsolescent, and a replacement was needed. The start of the World War II killed the two proposed indigenous designs. In 1944 the DFS SG 38 Schulgleiter was selected to replace the Grunau 9s,but proved to be too complicated and expensive to built. The attention turned to a Soviet Antonov U-s3 captured in Petrozavodsk in 1941. Its performance was found to be good, and a Finnish counterpart was built during winter 1944-45. 26 more were built by flying clubs in the immediate post-war years. Two were never finished.
In 1945-1946 an improved, strengthened version was designed by Juhani Heinonen, Reino Häkinen and Ilkka Lounamaa from Polyteknikkojen Ilmailukerho (Flying Club of Polytechnic Students, PIK) and named PIK-7 Harakka II. It was first flown on 8 September 1946. Work started on over 30 Harakka IIs, but all were not completed, and a few were dismantled due to building errors.
A third Harakka, known as the PIK-7 Harakka III, was designed by Jaakko Nurmi in 1947. It had a PIK-5-like tail boom and a landing wheel instead of a ski. It was completed in spring 1948 and got the registration code H-34. No more Harakka IIIs were built.
Some Harakkas were equipped with a streamlined cockpit cowling known as Muna (Egg). It improved rudder performance (by eliminating the wake turbulence caused by the pilot), protected the pilot from wind, offered attachment points for a speedometer and an altimeter, and made the aircraft look and feel more advanced.
The Harakka was the backbone of Finnish pilot training and sport aviation in the years after World War II. It was quick to build and relatively easy to move around thanks to its light weight. The Harakka's performance was regarded as superior to both the SG 38 and the Grunau 9, and thus the Harakka largely replaced them. Most Harakkas were retired in the late 1950s and early 1960s when primary glider training switched to vastly more advanced, two-seat aircraft.
Variants
Edit
Harakka I - original version. 27 built.
PIK-7 Harakka II - improved and strengthened version. At least 28 built.
PIK-7 Harakka III - new tail and landing gear. One built.
Alanne Moottoriharakka - ultralight motor aircraft with the Harakka's wings and tail. One built.
Survivors
Edit
Harakka I H-5 is at the Finnish Aviation Museum in Vantaa.
Harakka I H-12 is at the Karhulan ilmailukerho Aviation Museum in Kotka. Airworthy.
Harakka I H-18 is hanging from the ceiling of Ålands Flygklubb's hangar in Mariehamn, Åland.
Harakka I H-29 is at the Finnish Air Force Museum in Tikkakoski, but not on display.
Harakka II H-56 is at the Finnish Aviation Museum in Vantaa.
Harakka II H-57 is at the Karhulan ilmailukerho Aviation Museum in Kotka. Airworthy.
Harakka II OH-034 is on display at Jämijärvi Airfield in Jämi. It was built in 1995.
Harakka III H-34 is at the Karhulan ilmailukerho Aviation Museum in Kotka.
Specifications (Harakka II)
Edit
Crew: 1
Length: 5.72 m (18 ft 9 in)
Wingspan: 10.60 m (34 ft 9 in)
Height: 1.30 m (4 ft 3 in)
Wing area: 15 m2 (161 ft2)
Empty weight: 92 kg (200 lb)
Gross weight: 200 kg (440 lb)
Maximum speed: 117 km/h (73 mph)
Maximum glide ratio: 10.5:1
Rate of sink: 1.2 m/s (236 ft/min)
Community content is available under
CC-BY-SA
unless otherwise noted.