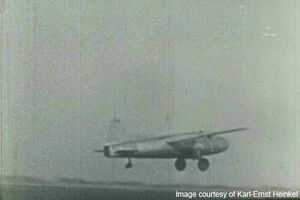 The Heinkel He 178 was the first aircraft to fly with a turbojet engine, both items being built as a private venture by the company Heinkel.
Description
[
]
The He 178 was a single seat high wing monoplane, with a metal fuselage and wooden wing. The jet engine was mounted in the extreme tail, with air being fed through a pipe under the cockpit connected to a simple intake in the nose. Initially burning aviation petrol, the HeS 3B engine later used J2 diesel.[1]
History
[
]
The first flight of this aircraft, and for a turbofan engine, took place when Erich Warsitz flew the first example, the He 178 V1, on August 27 1939, three days after the type made a short hop Unfortunately, the flight was cut short when a bird was sucked into the intake shortly after take off, resulting in engine failure.[2] Following the flight, the RLM were informed of the project, but showed little interest, although the aircraft was flown in front of Udet and Milch at Marienehe on 1 November 1939. The He 178 V1 was subsequently placed in the Berlin Air museum, where it was destroyed by allied bombing in 1943. The second example, the larger winged He 178 V2, never flew.[1]
Details
[
]
Length: 24 FT 6.5 in (7.48 m)
Wingspan: 23 FT 3.5 in (7.2 m)
Height: 6 ft 10.5 in (2.10 m)
Empty Weight: 3,572 lb (1,620 kg)
Loaded weight: 4,405 lb (1,998 kg)
Maximum Speed (estimated): 435 mph (700 km/h)
Range: 125 Miles
Gallery
[
]
References
[
]
↑ 1.0 1.1 Wood, Tony and Bill Gunston. Hitler's Luftwaffe. Salamander Books. 1997. ISBN 0 86101 935 0 Page 192
↑ World Aircraft Information Files Aviation Partwork. Midsummer Books Ltd. File 896 Sheet 27 (A-Z of Aircraft:H

Heinkel He 115

(continued) to Heinkel He 219 Uhu)