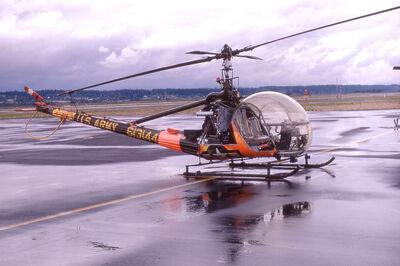 The Hiller OH-23 Raven was an American light observation helicopter manufactured by the Hiller Aircraft Corporation. 
The OH-23 was based on the Hiller Model 360, which was designed by Stanley Hiller in 1947. The design was selected for use by the US Army after it completed a transcontinental flight of the United States in 1949 and was designated H-23. It saw service during the Korean War in the observation, utility, and medevac roles. It was even used early in the Vietnam War, before being replaced by the OH-6 Cayuse. The Raven also served with a number of other countries, including France, South Korea, and Great Britain. 
Powerplant: one Lycoming VO-435-23B[27] 6-cylinder piston engine
Maximum speed: 95 mph (153 km/h, 83 knots)
Range: 197 mi (317 km, 171 nmi)
Service ceiling: 13,200 ft (4,025 m)
Crew: 2
Empty weight: 1,816 lb (825 kg)
Length: 27 ft 9 1⁄2 in (8.47 m)
Rotor diameter: 35 ft 5 in[27] (10.80 m)
Height: 9 ft 9 1⁄2 in (2.99 m)
Community content is available under
CC-BY-SA
unless otherwise noted.