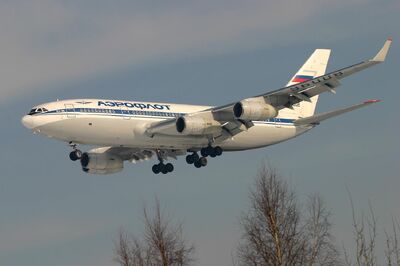 The Ilyushin Il-96 is a four engine long-range jet airliner designed the Ilyushin Design Bureau, a Russian aerospace company.
History
[
]
The Il-96 is an advanced development of Ilyushin's earlier Il-86, which was Russia's first widebody airliner. The aircraft first flew on September 28th, 1988, and entered service in 1992 with the Russian airline Aeroflot. 29 have been built and are in use

with a number of airlines in Russia, Cuba, and Peru, as well as with the Cuban Air Force. Production of the passenger versions of the Il-96 was cancelled in 2009 due to it being inferior to its Western counterparts and long production times (1 example built per year), leaving only the Il-96T cargo variant continuing to be built.
Specifications (Il-96-300)
[
]
Powerplant: four Aviadvigatel PS-90A jet engines
Top speed: 900 kmph
Range: 13,500 kilometers
Ceiling: 13,100 meters
Crew: 3
Capacity: Max 300 passengers
Empty weight: 120,400 kg
Length: 55.3 meters
Height: 15.7 meters
Wingspan: 60.11 meters
See also
[
]
Related development
Aircraft of comparable role, configuration and era
Related lists
List of civil aircraft

List of jet airliners