The
Joint Strike Fighter Program
(JSF) was started in the year 1993, after the U.S. Department of Defense observed some studies about the current equipment of the US Armed Forces. The US Air Force programs for the
F-22 Raptor
and
F/A-18E/F Super Hornet
were continued. The
Multi-Role Fighter program
and the
A/F-X-program
were cancelled and
F-16 Fighting Falcon
and
F/A-18C/D
procurement was curtailed. The JSF program was started as compensation.
The JAST program office was established on 27th January 1994. It should develop the aircraft, the armament and the sensors, that would be needed for tactical future aircraft. The aim was a single family of aircraft that should replace multiple ageing aircraft types in the hangars of the United States and the United Kingdom.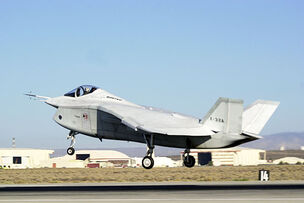 The aims of the Joint Strike Fighter design were:
Integrated avionics/sensors

The JSF should be built in three variants:
An aircraft performing conventional take-off and landing for the United States Air Force (A variant)
A carrier based aircraft for the United States Navy, wit foldable wingtip sections. (C variant)
An aircraft performing Short take-off or vertical landing for the United States Marine Corps and the Royal Air Force. (B variant)

The following companies showed their concepts:
McDonnell Douglas and British Aerospace

In the year 1996 Boeing and Lockheed Martin were contracted to build and develop the X-32/X-35 prototypes.
On 26th October 2001 Lockheed Martin's design, the X-35 was selected as the winner, so that Lockheed Martin received the contract to develop the F-35 Joint Strike Fighter. The reason for that was the conventional design which would lower the production cost and the weight versus size problems of the X-32. The X-35 was also more agile than the X-32.
Community content is available under
CC-BY-SA
unless otherwise noted.