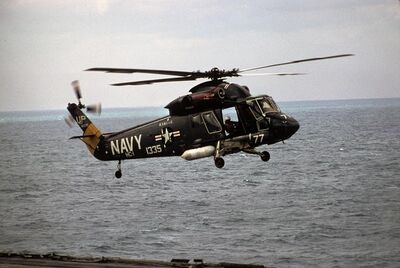 The Kaman SH-2 Seasprite is an American anti-submarine and utility helicopter. 
History
[
]
The SH-2 was designed in response to a 1956 US Navy competition for a new multipurpose helicopter. Kaman's design, known to the company as the K-20[1] won, and four YHU2K-1 prototypes were built. The aircraft first flew on July 2nd, 1959, and entered service in December, 1962. It was redesignated UH-2 under the new tri-service designation system in 1962.[N 1]
The first production version was the HU2K-1 (later UH-2A), 84 examples being built with the T58-GE-8 engine delivering 1,250 shp (932 kW).[1]
Seasprites saw service during the Vietnam War, retrieving downed aircrews and providing plane guard to aircraft carriers. In the 1970s, most UH-2s were converted into SH-2 ASW helicopters, making them first of the type that could operate from US Navy ships other than aircraft carriers. They were used to support a number of military operations in the late 1980s and early 1990s, including Operation Praying Mantis and Operation Desert Storm. Production of the standard SH-2 ended in 1986 with 184 built, and all were retired from US Navy service by 1993. The upgraded SH-2G variant is still in use with several countries, including New Zealand, Poland, and Egypt.
Specifications (SH-2F)
[
]
Powerplant: two General Electric T58-GE-8F turboshaft engines
Top speed: 165 mph
Range: 422 miles
Ceiling: 22,500 feet
Crew: 3
Empty weight: 7,040 lbs
Length: 52 feet 7 inches
Height: 15 feet 6 inches
Rotor diameter: 44 feet
Armament: two side-mounted hardpoints capable of carrying two anti-submarine torpedoes or (on non-US aircraft) missiles. 
References
[
]
Notes
[
]
Sources
[
]