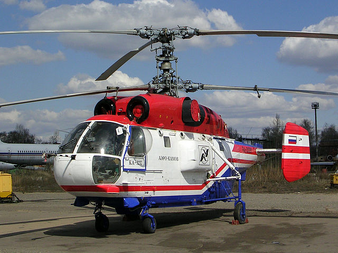 The Kamov Ka-32 is a medium weight civilian helicopter, derivated from the Ka-27 anti-submarine helicopter of the Russian Navy. It was first flown on 24 December 1973 and entered service in 1982.
Variants
[
]
Ka-32A11BC the variant of the helicopter registered as B-7817 and operated by the Chinese State Oceanic Administration
Individual examples
[
]
B-7817 is a Chinese registration Kamov Ka-32 helicopter operated by the People's Republic of China icebreaker M/V Snow Dragon (雪龙, Xue Long). It was heavily featured in the rescue attempt of the Russian research ice cruise ship Akademik Shokalskiy in the 2013-2014 transition period, where it reconned the ice stranded Akademik Shokalskiy (Академик Шокальский), and later moved all the non-essential crew and passengers off that ship and onto the Australian icebreaker M/S Aurora Australis. The helicopter was featured heavily in the press surrounding the incident.