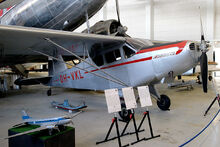 Karhumäki Karhu 48 (Bear 48) is a Finnish 1940s four-seat touring aircraft designed and built by Karhumäki brothers. In the terms of weight and payload, it is the largest Finnish civilian aircraft ever built.
In the aftermath of World War II the Karhumäki factory in Kuorevesi was in need of work, so in 1946-1947 a new touring aircraft was designed. Two prototypes were built by 1948 with the first one, coded OH-VKK, making its maiden flight on 20 July 1948. OH-VKK was nicknamed "Nalle" (Little Bear) while the the second prototype OH-VKL was known as "Tavi" (Eurasian Teal). In 1951 OH-VKL was given new wings to improve its flying characteristics, and its designation was changed into Karhu 48B.
The Karhu 48 received no orders since similar foreign aircraft like the Fairchild 24 and the Taylorcraft Auster were abundant.
OH-VKK was cannibalized for spare parts from 1952 onwards and mostly scrapped in 1960. OH-VKL was retired in 1973.
OH-VKL is at the Finnish Aviation Museum in Vantaa.
The bare fuselage of OH-VKK is at the Hallinportti Aviation Museum in Jämsä.
Karhu 48: The original prototype.
Karhu 48B: New wings.
Crew: 1
Capacity: 3 passengers
Length: 7.85 m (25 ft 9 in) (landplane)
Wingspan: 11.54 m (37 ft 10 in)
Wing area: 17.31 m2 (186.3 sq ft)
Max takeoff weight: 1,310 kg (2,888 lb)
Powerplant: 1 × Avco Lycoming O-435A 6-cyl. air-cooled horizontally-opposed piston engine, 190 hp kW (140 kW)
Propeller: 2-bladed Aeromatic 220 variable-pitch
Maximum speed: 229 km/h (142 mph, 124 kn)
Cruise speed: 186 km/h (116 mph, 100 kn)
Range: 700 km (430 mi, 380 nmi)
Service ceiling: 4,800 m (15,700 ft)
Community content is available under
CC-BY-SA
unless otherwise noted.