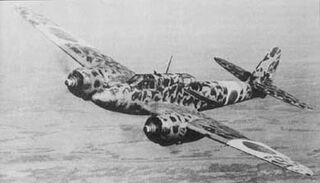 The Kawasaki Ki-45 Toryu (屠龍, "Dragon Slayer") was a two-seat, twin-engine fighter used by the Imperial Japanese Army in World War II. The army gave it the designation "Type 2 Two-Seat Fighter"; the Allied reporting name was "Nick".
In response to the rapid emergence in Europe of twin-engine heavy fighters such as the Messerschmitt Bf 110, the army ordered development of a twin-engine, two-seat fighter in 1937, and assigned the proposal by Kawasaki Shipbuilding the designation of Ki-38. This only went as far as a mock up, but by December of that year, the army ordered a working prototype as the Ki-45, which first flew in January 1939. Results from the test flights, however, did not meet the army's expectations. The Ha-20 Otsu engine was underpowered and failure-prone, while the airframe suffered from nacelle stall.
The Ki-45 did not enter service, but the army, insistent on having a working twin-engine fighter, ordered Kawasaki to continue development. Kawasaki responded by replacing the engines with the proven Nakajima Ha-25. Flight tests were promising.

In October 1940, the army ordered continued improvements such as switching to 805 kW (1,080 hp) Mitsubishi Ha-102 engines. This craft, designated Ki-45 Kai, was complete in September 1941 and was officially adopted for use by the army in February 1942 as the "Type 2 Two-Seat Fighter".
Community content is available under
CC-BY-SA
unless otherwise noted.