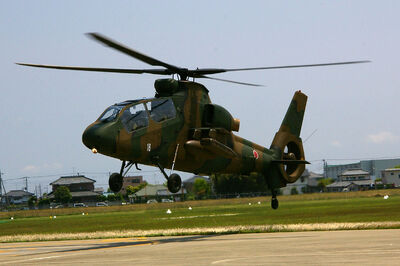 The Kawasaki OH-1 is a light Japanese reconnaissance helicopter.
History
[
]
The OH-1 was developed to replace the Japan Ground Self-Defense Force's aging fleet of OH-6 Loachs. A program called OH-X was begun in the late 1980s in order to accomplish this goal, with Kawasaki's design being selected as the winner in September 1992.
Design work was started in October 1992, and completed the following year. This led to the 1993 construction of a mock-up designated OH-X, which Kawasaki displayed in September 1994. The first prototype XOH-1 made its maiden 16 minute flight on the morning of 6 August 1996. Crewed by Yoshinori Inayama and Takayoshi Yuasa, the XOH-1 reached a speed of 30 kts and height of 35 ft (10 m). Three more prototypes were built soon afterwards, making their initial flights on 12 November 1996, 9 January 1997 and 12 February 1997 respectively. The first prototype was delivered to Akeno Air Base on 26 May 1997, for testing by the Japan Defence Agency. The second prototype was delivered to Akeno on 6 June 1997, and was quickly followed by the third, with the forth arriving in August.[1]
Full-scale production of the OH-1 began in 1998, with over 150 on order for the JGSDF. However, the organization is still in the process of placing them into service, as many of their OH-6s are still in use and budget problems are slowing procurement of the new aircraft. 
Specifications
[
]
Powerplant: Two Mitsubishi TS1-M-10 engines
Top speed: 278 km/h
Range: 540 km
Ceiling: 4,880 m
Crew: 2
Empty weight: 2,450 kg
Length: 12 m
Height: 3.8 m
Rotor diameter: 11.6 m
Armament: Four pylons capable of carrying disposable ordnance.
References
[
]
↑ World Aircraft and Systems Directory - Third Edition. 2002. Reed Business Information Ltd. ISBN 0 617 01289 X Page 696