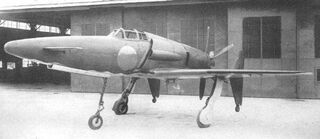 The Kyushu J7W Shinden (Magnificent Lightning)[1] was a highly advanced aircraft developed by the Japanese Empire in January of 1945 to combat the US air raids on Japan, and to carry out other interception missions against Allied forces during World War II.
Designed by a team led by Captain Masaki Tsuroma,[1] the J7W was ordered into production before the first of two prototypes was completed and flown. No further examples were built, due to the end of World War II before production could begin. Both of the J7W prototypes were abandoned, one to the scrapyard and the other captured by the US Army.
The J7W Shinden was propelled by a 2,130 hp (1,589 kW) Mitsubishi MK9D engine, intended to give the aircraft a maximum speed of 466 mph (780 km/h at 28,545 ft (8,700 m).[2] The J7W was 31 ft 8 1/4 in (9.66 m) long, 12 ft 10 1/3 in (3.92 m) in height and with a wingspan of 36 ft 5 1/2 in (11.11 m). Empty weight was 7,639 lb (3,465 kg). Max loaded weight was 11,526 lb (5,228 kg). Estimated range was 528 miles (850 km), and time to 26,245 ft (8,000 m) was 10 minutes 39.6 seconds.[3] It boasted four 30-millimetre guns stationed in the nose section, and would have a bombload of 264 lb (120 kg). The craft would have been far superior to any other mass-produced fighter unit at the time, but was not developed enough when the war ended, and was subsequently discontinued in 1945.
The Shinden had a total of three test flights, making the total flying time 45 minutes. There was a torque pull to the right, some flutter of the propeller blades, and vibrations form the drive shaft.
The only two aircraft built were powered by a single piston engine, but there were plans for a jet powered variant, called the Shinden-Kai.
↑ 1.0 1.1 Green, William and Gordon Swanborough. The Complete Book of Fighters. Salamander Books. 2001. ISBN 0 84065 269 1 Page 324
↑

Complete Fighters Pages 324/325

↑

Complete Fighters Page 325
Community content is available under
CC-BY-SA
unless otherwise noted.