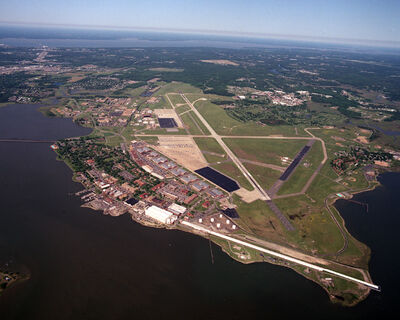 The Langley Air Force Base is an airbase of the United States Air Force, near Hampton, Virginia. It was named after the aviation pioneer Samuel Pierpont Langley. The base is controlled by the United States Air Force.
History
[
]
In the year 1916, the National Advisory Committee for Aeronautics (NACA), the predecessor of the NASA, wanted to build a military base in corporation with the United States Navy and the United States Army. It was decided to build it in the north of the city Hampton; one year later it was named Langley Field. Aircraft like Curtiss JN-4 and Airco D.H.4 were stationed there, which were also used in World War I. After the War captured German warships were sunk from there for training. In the year 1946, the Tactical Air Command was headquartered at Langley Field. And because of that more combat aircraft were based at Langley Field, so that it was renamed to Langley Air Force Base. Till its deactivation in the year 1992, many missions for close air support during Vietnam War and the Second Gulf War were absolved from Langley AFB. In 1992 the Air Combat Command was headquartered in Langley.
After recommendations of the 2005 Base Realignment and Closure Commission, it was ordered to consolidate the Langley AFB and the US Army´s Fort Eustis into a single joint base.
Gallery
[
]