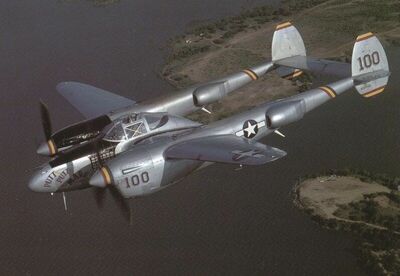 The Lockheed P-38 Lightning (reconnaissance variants were called F-4 and F-5), was a fighter aircraft developed by Lockheed Corporation and was used by the US Air Force during World War II, mainly in the Pacific War. It has an unusual design with three fuselages.
Development
[
]
The Lockheed P-38 was primarily designed to be an Interceptor aircraft, but it was also used as a fighter-bomber and a long-range escort fighter. Like Boeing, Consolidated, Curtiss, Douglas and Vultee, Lockheed was contracted to take part at a requirement of the United States Army Air Corps (USAAC) for a twin-engine interceptor aircraft
The new fighter aircraft had to meet the following criteria:
580 km/h in a ceiling of 6,000 m

A maximum speed of 466 km/h at sea level

It must be able to hold an altitude of 6,000 m for at least one hour at full throttle

670 m after take-off it must be able to fly over an 15 m high obstacle
Hall Hibbard und Clarence "Kelly" Johnson recommended the USAAC the model "22-64-01", the design by Lockheed had three fuselages and was criticized, because of it's unconventional design. However it was chosen on 23rdJune 1937.
It was powered by two Allison V-1710 engines with a power of 857 kW (1,150 horsepower) each. To balance the Torque of the propellers, they rotated asymmetrical. The central fuselage with the cockpit is equipped with a 20 mm Hispano-Suiza HS.404 gun and four 12.7 mm Browning M2 machine guns.
Gallery
[
]