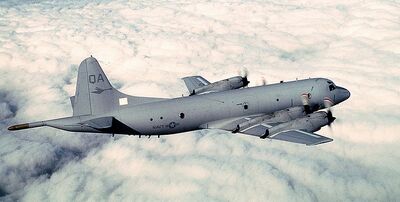 The Lockheed P-3 Orion is a four engine propeller driven aircraft, which is used for maritime reconnaissance missions and as an anti-submarine aircraft. The Orion is a military derivative of the Lockheed L-188 Electra, which was first flown on 6th December 1957.
History
[
]
The P-3 Orion was first flown on 25th November 1959. The P-3A entered service with the US military in the year 1962, but was already retired in 1979. The successor of the P-3A was the P-3C, of which the last aircraft was built in 1990 and the P-3C is still in service with the US Navy. But since 2010 it is being replaced by the P-8 Poseidon by Boeing, a military derivative of the 737-800.
The American National Oceanic and Atmospheric Administration (NOAA) uses the WP-3D for meteorological missions.
On 1st April 2001 a EP-3E SIGINT-reconnaissance aircraft of the US Navy, had to do an emergency landing, after colliding with a Chinese Shenyang J-8 fighter aircraft.