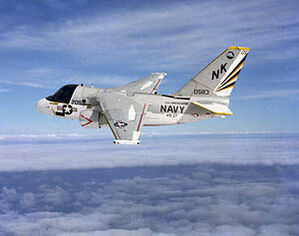 The
Lockheed S-3 Viking
is a carrier-based anti-submarine warfare and submarine-tracking aircraft of the US Navy, which was in service from 1974 to 2009. Small numbers entered service again in 2010.
Development and History
Edit
At the time it was realized that the Grumman S-2 Tracker anti-submarine aircraft would not be able to absolve its missions effectively anymore, a design competition was started in 1967 to create a capable replacement. The result was a turbofan-powered anti-submarine aircraft by Lockheed. In comparison to the S-2, the S-3 was able to patrol an area being three times larger than the S-2 was able to patrol and the S-3 was able to carry twice the armament. The 461 million dollar contract, requiring six test aircraft and three mock-ups, was launched on 1st August 1969.
The first of eight prototypes (YS-3A) made its first flight on 21st January 1972, and was flown by John Christiansen and Lyle Schaefer. On 20th February 1974 the first aircraft was delivered to the US Navy, and assigned to VS-41 'Shamrocks'. the first Fleet Readiness Squadron for the type. The first fleet squadron, VS-21 'Fighting Redtails', became the first operational S-3 unit in July 1974,[1] joining the USS John F. Kennedy aircraft carrier in 1975.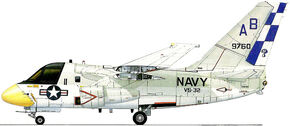 In 1978, the last S-3A Viking was produced, at this time 187 of them were in service with the United States Navy.
In the middle of the 1980s, a large upgrade program was launched. The first of the new S-3B aircraft was first flown on 13th September 1984. All in all 119 aircraft were upgraded to S-3B status.
S-3A: Original version with AN/AYK-10 digital computer from Univac, together with AN/APS-116 radar, OR-89 Forward Looking Infra-red (FLIR) and AN/ASQ-81 magnetic Anomaly Detector (MAD) from Texas Instruments, supplemented by 60 sonobouys. 187 built out of 199 planned. 119 examples converted to S-3B standard.[2]

ES-3A: Electronic intelligence/communication version. Sixteen examples converted from S-3A airframes under a 1989 contract. Deployed to fleet units from May 22nd 1993.[2]
KS-3A: Dedicated tanker version. One example converted from fifth YS-3A aircraft. AAR capability transferred to standard S-3s fitted with an ARS-31-301 'buddy' pod.[1]
US-3A: Carrier Onboard Delivery aircraft. The seventh YS-3A, followed by five S-3As, were stripped of ASW equipment to serve as a complement to the Grumman C-2 Greyhound.[1]

S-3B: Updated version launched in 1981, with improvements to acoustic processing, ESM coverage and radar processing, together with a new sonobouy receiver and AGM-84 Harpoon provision.[1]
References
Edit
↑ 1.0 1.1 1.2 1.3

World Aircraft Information Files Aviation Partwork. Midsummer Books Ltd. File 182 Sheet 1 (S-3 Viking:Cold War sub-hunter)
Community content is available under
CC-BY-SA
unless otherwise noted.