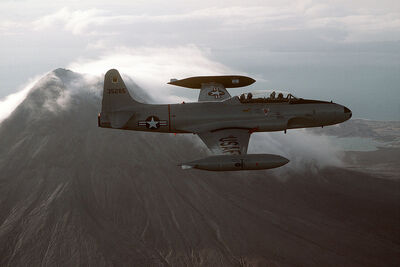 The
Lockheed T-33 Shooting Star
, nicknamed the
T-Bird
, is an American training aircraft developed from the
P-80 Shooting Star
.
Development
Edit
The T-33 was based on the airframe of the P-80, the first jet aircraft to fully enter service with the US Army Air Force. Differences include a lengthened fuselage, additional instrumentation, and an additional seat. The initial conversion, serial 48-356, first flew at Van Nuys, California as the TP-80C, with Test pilot Tony LeVier at the controls, and crew chief Robert Spohn in the rear seat, on March 22nd, 1948. Entering production in the same year, the type became the TF-80C on 11th June 1948, before being redesignated T-33A on 5th May 1949.[1]
The T-bird first entered service with the 3525th Flying Training Group (Later Wing) at Williams AFB, Arizona,

in June 1949. Rapid production permitted the re equipment of the 3605th (Granville AFB, Mississippi), 3510th (Randolph AFB, Texas), 3530th (Bryan AFB, Texas), 3540th (Pinecastle AFB, Florida), 3560th (Webb AFB, Texas), 3565th (James Connally AFB, Texas), 3580th (Foster AFB, Texas), 3615th (Craig AFB, Alabama), 3640th (Laredo AFB, Texas) and 3645th (Laughlin AFB, Texas) Flying Training Wings.
[1]
The T-Bird was primarily used as an advanced trainer, and has seen service with many countries and private owners, some of which still operate it today. Production ended in 1959, with 6,557 built. The T-33 was also license-built by Canadair as the CT-133 Silver Star, and had several major variants and developments including the T2V SeaStar, the F-94 Starfire, and the Boeing Skyfox.
T-33A-1-LO: Standard trainer fitted with two 0.5 in (12.7 mm) Browning machine guns, with 300 rounds each, for gunnery training. Canadian version designated Silver Star 3AT.
T-33A-5-LO: Unarmed aircraft used for navigation training. Canadian version designated Silver Star 3PT
RT-33A: Eighty five production T-33s fitted with a camera nose for tactical reconnaissance duties. Canadian version (3 examples) designated Silver Star 3PR.
QT-33A: Conversions with remote piloting equipment, used as missile targets (USN) and for collecting samples from atomic blast clouds (USAF).
NT-33A: Single aircraft (51-4120) fitted with variable stability control system, designed to simulate the control systems of other aircraft. Retired in April 1997 and replaced by NF-16D VISTA.[1]
Specifications
Edit
Powerplant: one Allison J33-A-35 turbojet engine
Maximum speed: 600 mph/970 km/h
Range: 1,275 miles/2,050 km
Ceiling: 48,000 feet/14,600 m
Crew: 2
Empty weight: 8,300 pounds/3,775 kg
Length: 37 feet 9 inches/11.49 m
Height: 11 feet 8 inches/3.57 m
Wingspan: 38 feet 10.5 inches/11.86 m
References
Edit
Community content is available under
CC-BY-SA
unless otherwise noted.