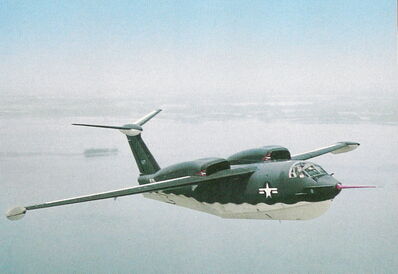 The Martin P6M SeaMaster was a bomber flying boat designed to be a part the the US Navy's post-war nuclear strike force. 
The SeaMaster was designed in response to a 1951 requirement set by the USN for a long-range seaplane capable of carrying a 30,000 lb payload. Proposals were submitted by Martin and
Convair
, with Martin's being chosen and having two prototypes ordered. The design originally called for advanced Curtiss-Wright turbo-ramjet engines, but pro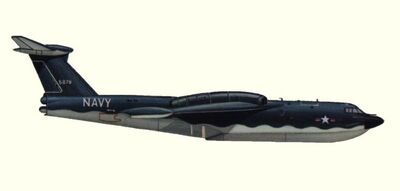 blems in their development led to them using the underpowered Allison J71 instead. The first XP6M-1 rolled out of the hangar on December 21, 1954, and first flew on July 14, 1955. Several issues with the aircraft caused Martin to change several elements, and the redesigned YP6M was completed in 1957. Production began shortly after testing, and a total of 12 were constructed. However, due to a number of problems with the SeaMaster, the cost of the program, and the growing reliability of ICBMs in comparison to manned aircraft, the program was cancelled in 1959. Martin soon abandoned the aircraft, and all examples were eventually scrapped.
Specifications
Edit
Powerplant: Four Pratt & Whitney J75-P-2 turbojet engines
Top speed: 630 mph
Range: 2,000 miles
Ceiling: 40,000 feet
Crew: 4
Empty weight: 91,300 lbs
Length: 134 feet
Height: 32 feet 5 inches
Wingspan: 102 feet 11 inches
Armament: Two 20 mm cannons, 4,000 lbs of ordnance
Community content is available under
CC-BY-SA
unless otherwise noted.