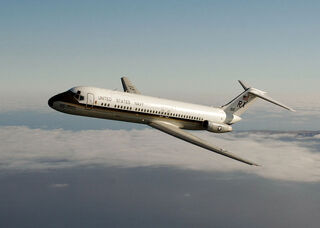 The McDonnell Douglas C-9 is a military version of the DC-9. It was produced as the C-9A Nightingale for the United States Air Force, and the C-9B Skytrain II for the U.S. Naval Reserve and Marine Corps. The final active-duty flight of the C-9A Nightingale was in September 2005.[1] The Boeing C-40 Clipper is replacing the Navy Reserve's aging C-9B fleet.[2][3]
Design and development
[
]
The US Air Force C-9A Nightingale aircraft were used
for medical evacuation (MedEvac), passenger transportation, and special missions from 1968-2005.
The C-9B aircraft provided cargo and passenger transportation as well as forward deployed air logistics support for the Navy and Marine Corps. A C-9B was chosen by NASA for reduced gravity research,[4] replacing the aging KC-135 Vomit Comet.
Many of the Navy's C-9Bs have a higher maximum gross take-off weight (114,000 lb or 52,000 kg) and are fitted with auxiliary fuel tanks installed in the lower cargo hold to augment the aircraft's range to nearly 2,600 nautical miles (4,200 km) for overseas missions along with tail mounted infra-red (IR) scramblers to counter heat seeking missile threats in hostile environments.
The C-9 fleet was located throughout the continental U.S., Europe, and Asia.[5]
Variants
[
]
Operators
[
]
United States Marine Corps
Specifications
[
]
See also
[
]
Related develoment
Similar aircraft
References
[
]
External links
[
]