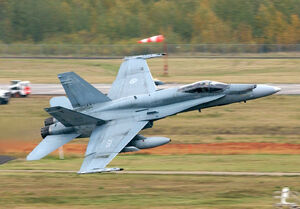 The McDonnell Douglas CF-18 Hornet, also know as the CF-18 (manufacturer's designation), or as the CF-188 (operator's designation), is a variant of the Hornet used by the Canadian Forces. It comes in two variants: The single seat A variant, and the two seat B trainer variant.
History
[
]
In 1977, the Canadian government decided to replace the CF-104. They conducted the New Fighter Program, a program that would choose the replacement plane. The F/A-18 won the competition, and was named the CF-188 in the Canadian Military. This made Canada the first non US operator of the Hornet. The name Hornet is not officially used for the 98 single seat and 40 two seat examples in Canadian service, as the French language equivalent - Frelon - could be confused with the helicopter of the same name built by Aerospatiale.[1]
The differences between the CF-18 and the usual F-18 are limited to a 0.6 MCD night identification light, located on the gun loading door, on the left side of the plane, and a "dummy" canopy painted below the cockpit, to make it seem the plane is right side up, when it in fact isn't.
Details:
[
]
Length: 56 ft
Wing Span: 40 ft with Sidewinder missiles
Wing Area: 400 ft
Maximum Speed: Mach 1.8
Rate of Climb: 50,000 ft/min
Thrust/Weight Ratio: 0.89
Gallery
[
]
References
[
]
↑

World Aircraft Information Files Aviation Partwork. Midsummer Books Ltd. File 890 Sheet 80 (A-Z of Aircraft:Boeing (McDonnell Douglas) F/A-18A-D Hornet (cont) to Boeing (McDonnell Douglas) MD-11