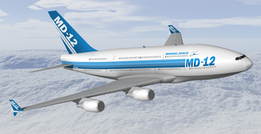 The McDonnell Douglas MD-12 was an aircraft design study undertaken by the McDonnell Douglas company in the 1990s for a "superjumbo" aircraft, first conceived as a larger trijet, then stretched to a 4-engine airliner. It was to be similar in size to the Boeing 747, but with more passenger capacity. However, because of the company's merger with Boeing, the MD-12 received no orders and was cancelled. McDonnell Douglas then studied larger MD-11 derivatives named MD-XX without proceeding.
General characteristics
Crew: 2 (pilot and co-pilot)
Capacity: 430 Passengers in 3-class arrangement, up to 511 passengers in high-capacity layout
Length: 208 ft 0 in (63.40 m)
Wingspan: 213 ft 0 in (64.92 m)
Height: 74 ft 0 in (22.55 m)
Wing area: 5,846 ft² (543.1 m²)
Empty Weight : 402,700 lb (187,650 kg)
Max. Takeoff Weight: 949,000 lb (430,500 kg)
Powerplant: 4 × General Electric CF6-80C2 high-bypass turbofans, 61,500 lbf (274 kN) each
Performance
Max. Speed: Mach 0.85 (565 mph, 1,050 km/h)
Range: 7,170 nmi (9,200 mi, 14,825 km)
Wing Loading: 162.3 lb/ft² (792.7 kg/m²)
Community content is available under
CC-BY-SA
unless otherwise noted.