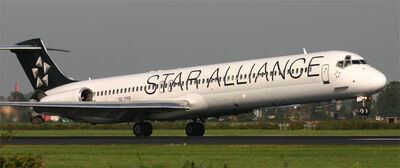 The
McDonnell Douglas MD-80 series
are twin-engine, medium-range, single-aisle commercial jet
airliners
. The MD-80 aircraft were lengthened and updated from the
DC-9
. The MD-80 series can seat from 130 up to 172 passengers. They typically feature cabin layouts that seat 140 passengers on scheduled flights, and 165 on low-cost flights.
The MD-80 series was introduced commercially in October 1980 by Swissair. The MD-80 series was followed in modified form by the MD-90 in 1989 and the MD-95/Boeing 717 in 1998.
Design and development
Edit
Background
Edit
Douglas Aircraft developed the DC-9 in the 1960s as a short-range companion to their larger DC-8.[1] The DC-9 was an all-new design, using two rear fuselage-mounted turbofan engines, and a T-tail. The DC-9 has a narrow-body fuselage design with a 5-abreast seating, and holds 80 to 135 passengers depending on seating arrangement and aircraft version.
The MD-80 series was the second generation of the DC-9. It was originally called the DC-9-80 series and the DC-9 Super 80[2] and entered service in 1980. The MD-80 series was then developed into the MD-90 entering service in 1995. The last variant of the family was the MD-95, which was renamed the Boeing 717-200 after McDonnell Douglas's merger with Boeing in 1997.
The DC-9 family is one of the most successful jet airliners with a total of over 2,400 units produced; it ranks third behind the second place Airbus A320 family with over 3,000 produced, and the first place Boeing 737 with over 5,000 produced.
MD-80 series
Edit
The MD-80 series is a mid-size, medium-range airliner that was introduced in 1980. The design was the second generation of the DC-9 with two rear fuselage-mounted turbofan engines, small, highly efficient wings, and a T-tail. The aircraft has a distinctive 5-abreast seating in coach class. It was a lengthened DC-9-50 with a higher maximum take-off weight (MTOW) and the ability to carry more fuel. The aircraft series was designed for frequent, short-haul flights for 130 to 172 passengers depending on plane version and seating arrangement.
The development of MD-80 series began in the 1970s as a growth version of the DC-9 Series 50. Availability of new Pratt & Whitney JT8D higher bypass engines drove early studies including designs known as Series 55, Series 50 (Re-fanned Super Stretch), and Series 60. The design effort focused on the Series 55 in August 1977. With the projected entry into service in 1980, the design was marketed as the "DC-9 Series 80". Swissair launched the Series 80 in October 1977 with an order for 15 plus an option for five.[1]
The Series 80 featured a fuselage 14 feet 3 in (4.34 m) longer than the DC-9-50. The DC-9 wings were redesigned by adding sections at the wing root and tip for a 28% larger wing. The initial Series 80 first flew October 19, 1979.[1]
It entered service in 1980. Originally it was certified as a version of the DC-9, but was changed to MD-80 in July 1983, as a marketing move. New versions of the series were initially the MD-81/82/83 and the shortened MD-87, even though their formal certification was DC-9-81/82 etc. Only the MD-88 was given an "MD" certification, as was later the MD-90.
The MD-80 versions have cockpit, avionics and aerodynamic upgrades along with the more powerful, efficient and quieter JT8D-200 series engines, which are a significant upgrade over the smaller JT8D-15, -17, -11, and -9 series. The MD-80 series aircraft also have longer fuselages than their earlier DC-9 counterparts, as well as longer range. The MD-80's production ended in 1999. Notably, customers such as American Airlines and Alitalia still, as of 2008, refer to the planes in fleet documentation as "Super 80" or "SP80". This model is still flown extensively by American Airlines (300 inherited from TWA after American's acquisition of TWA in April 2001) and Delta Air Lineson domestic routes. Comparable airliners to the MD-80 series include the Boeing 737 (in particular, the 737-400 variant) and Airbus A320.
Derivative designs
Edit
The MD-90 was developed from the MD-80 series and was a 5 feet longer, updated version of the MD-88 with a similar electronic flight instrument system (EFIS), (glass cockpit) and more powerful, quieter and fuel efficient IAE V2500 engines. The MD-90 program was launched in 1989, first flew in 1993 and entered service in 1995.
A number of other variants were proposed that never saw production. One proposal was the MD-94X which was fitted with an unducted fan engine. The MD-81 was used as a testbed for unducted fan engines, such as the GE 36 and the Pratt and Whitney/Allison 578-DX.[3]
The MD-95 was developed to replace early DC-9 models, then approaching 30 years old. The project was a complete overhaul the original DC-9 and reinventing it for modern transport. The aircraft is slightly longer than the DC-9-30 and is powered by new Rolls-Royce BR715 engines. The MD-95 was renamed Boeing 717 after the McDonnell Douglas—Boeing merger in 1997. A total of 156 717-200 aircraft were produced from 1998 to 2006.
Operational history
Edit
In August 2008, a total of 934 MD-80 aircraft (all variants) were in airline service, including American Airlines (304), Delta Air Lines (118), Alitalia (74), Scandinavian Airlines System (44), and Allegiant Air (35). Other operators fly fewer numbers of the type.[4]
The MD-80 is not fuel efficient compared to the A320 or newer 737 models; it burns 1,050 gallons of jet fuel per hour on a typical flight, while the larger Boeing 737-800 burns only 850 gallons per hour (19% reduction). Many airlines have started to retire the type in the 2000s. Alaska Airlines' tipping point in using the 737-800 was the $4 per gallon price of jet fuel the airline was paying by the summer of 2008; the airline stated that a typical Los Angeles-Seattle flight would cost $2,000.00 less, using a Boeing 737-800, than the same flight using an MD-80. American Airlines has announced plans to retire at least 20 MD-80s,[5] and has accelerated delivery of new 737-800s,[6] while Midwest Airlines announced on July 14, 2008, that it would retire all 12 of its MD-80s (used primarily on routes to the west coast) by the fall.[7][8]
MD-81 (DC-9-81)

Originally the Super 81, basic production variant with two 18,500 lb thrust JT8D-208 engines.

MD-82 (DC-9-82)

Originally the Super 82, variant for hot and high operations with 20,000 lb thrust JT8D-217 engines and increased maximum take off weight.

MD-83 (DC-9-83)

Long-range version with 21,000 lb thrust JT8D-219 engines.

MD-87 (DC-9-87)

Short fuselage variant of the MD-80 with electronic flight instrumentation first flown in 1987.

MD-88

An MD-82 with updated glass cockpit of the MD-87.
Stretched variant with updated glass cockpit and two V2500 engines, also Extended Range (ER) version as the MD-90-30ER.
Replacement for the earlier DC-9-30, built as the Boeing 717.
Operators
Edit
The MD-80 series has been used by airlines around the world. Major customers past and present include Aeroméxico, Allegiant Air, B&H Airlines, American Airlines, Angkor Airways, Austrian Airlines, Avianca, Belle Air, Delta Air Lines, Swissair, Alitalia, Spanair, Scandinavian Airlines System (SAS), Finnair, Iberia, Japan Air System (JAS), China Eastern Airlines, China Northern Airlines, Alaska Airlines, Korean Air, Austral Líneas Aéreas, and Viking Airlines.
Incidents and accidents
Edit
The MD-80 series had been involved in 57 incidents,[9] including 24 hull-loss accidents,[10] with 1,176 fatalities.[11]
Notable accidents and incidents
Edit
On December 27, 1991, SAS Flight 751, an MD-81, OY-KHO "Dana Viking" crash landed at Gottröra, Sweden. In the initial climb both engines ingested ice broken loose from the wings (which had not been properly de-iced before departure). The ice damaged the compressor blades causing compressor stall. The stall further caused repeated engine surges that finally destroyed both engines, leaving the aircraft with no propulsion. The aircraft landed in a field and broke in three parts. No fire broke out and all aboard the plane survived.
On June 1, 1999, American Airlines Flight 1420, an MD-82 attempting to land in severe weather conditions at Little Rock Airport overshot the runway and crashed into the banks of the Arkansas river. Eleven people, including the captain, died.
On January 31, 2000, Alaska Airlines Flight 261, an MD-83, crashed in the Pacific Ocean, due to jammed horizontal stabilizer.[13] All 88 people on board were killed. Following the crash, the acme nut and jackscrew recovered from the aircraft were found to be excessively worn[14] and found to be the cause of the crash due to inadequate maintenance. The FAA ordered airlines to inspect and lubricate the jackscrew more frequently.[15]
On October 8, 2001, Scandinavian Airlines Flight 686, an MD-87 (SE-DMA) collided with a small Cessna jet during take-off at Linate Airport, Milan, Italy. The Linate Airport disaster left 114 people dead. The cause of the accident was a misunderstanding between air traffic controllers and the Cessna jet, and the SAS crew had no role in causing the accident. Also the ground movement radar was inoperative at the time of the accident.
On May 7, 2002, China Northern Airlines Flight 6136, an MD-82, from Beijing to Dalian, crashed into Bohai Bay near Dalian, killed all 111 people on board. It is believed a passenger who wanted to commit suicide started a fire on the plane, because he bought 10 flight insurances.[verification needed]
On November 30, 2004, Lion Air Flight 538, an MD-82 crash landed at Adi Sumarmo Airport in Surakarta and overran the end of the runway. There were 25 fatalities.
On September 28, 2007, American Airlines MD-80 Flight 1400 landed safely after the left engine caught fire. The flight took off from Lambert-St. Louis International Airport, heading for Chicago. No injuries were reported.[19]
On November 30, 2007, MD-83 Atlasjet Flight 4203 crashed in the southwestern province of Isparta, Turkey, killing all 57 people aboard. The cause of the crash is unknown.[20]
Between March 26, and March 27 then again between April 8, and April 12, 2008 an FAA safety audit against American Airlines forced the airline to ground its entire 300 MD-80 series fleet, to inspect the aircraft's hydraulic wiring. American was forced to cancel nearly 2500 flights in March and over 3200 in April.[21] In addition, Delta Air Lines inspected its own MD-80 fleet to ensure its 117 MD-80s were also operating within regulation. This prompted Delta to cancel 275 flights.[22]
Specifications
Edit
MD-81
MD-82/-88
MD-83
MD-87
Passengers
155 (2 class)
172 (1 class)
152 (2 class)
172 (1 class)
155 (2 class)
172 (1 class)
130 (2 class)
139 (1 class)
Max Take-off Weight
140,000 lb
(64,000 kg)
149,500 lb
(67,800 kg)
160,000 lb
(72,600 kg)
140,000 lb
(64,000 kg)
Range
1,570 NM
(2,910 km)
2,050 NM
(3,800 km)
2,504 NM
(4,640 km)
2,400 NM
(4,440 km)
Typical Cruise Speed
Mach 0.76 (504 mph, 811 km/h)
Length
147 ft 8 in (45.1 m)
130 ft 4 in
(39.7 m)
Wing span
107 ft 8 in (32.8 m)
Height
29 ft 6 in (9.05 m)
30 ft 5 in
(9.3 m)
Power plant (2 x)
P&W JT8D-209
18,500 lbf
(82.29 kN)
P&W JT8D-217A/C or -219
20,000 lbf
(88.96 kN)
P&W JT8D-219
21,000 lbf
(93.41 kN)
P&W JT8D-217C
20,000 lbf
(88.96 kN)
Sources: MD-80 general specs, MD-80 airport report
Related development
Aircraft of comparable role, configuration, and era
Related lists
References
Edit
↑ 1.0 1.1 1.2 Norris, Guy and Wagner, Mark. Douglas Jetliners. MBI Publishing, 1999. ISBN 0-7603-0676-1.
↑ History - Chronology - 1977-1982, The Boeing Company, Retrieved 2007-12-14
↑ MD-80 statistics, planespotters.net, August 2008.
↑ Aerospace Notebook: MD-80 era winding down as fuel costs rise, Seattlepi.com, June 24, 2008.
↑

American Speeds Jet Purchase, Wall Street Journal, August 14, 2008, p.B4

↑ "Midwest Will Cut 110 jobs in Kansas City", Kansas City Business Journal, July 22, 2008, p.10
↑ McDonnell Douglas MD-80 incidents, Aviation-Safety.net, 20 August 2008.
↑ McDonnell Douglas MD-80 Accident summary, Aviation-Safety.net.
↑ McDonnell Douglas MD-80 Accident Statistics, Aviation-Safety.net, 3 December 2007.
↑ Wilkerson, Isabel (1987-08-22). "Crash Survivor's Psychic Pain May Be the Hardest to Heal". The New York Times. http://query.nytimes.com/gst/fullpage.html?sec=health&res=9B0DE1DA1139F931A1575BC0A961948260

. Retrieved 2006-12-27

.

 

↑ NTSB Number AAR-02/01 Executive Summary, NTSB, 2002.
Becher, Thomas. Douglas Twinjets, DC-9, MD-80, MD-90 and Boeing 717. The Crowood Press, 2002. ISBN 1-86126-446-1.
External links
Edit
Community content is available under
CC-BY-SA
unless otherwise noted.