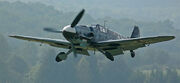 The Messerschmitt Bf 109 was a single seat German fighter aircraft that was used during World War II. It was a next generation fighter aircraft with a closed canopy, retractable landing gear and an all-metal construction.
Development begun in 1934 by Willy Messerschmitt in the Bayerische Flugzeugwerke (that´s the reason for the name "Bf"). The first flight was in May 1935, with the aircraft entering service in February 1937. Alongside the Focke-Wulf Fw 190 it was the German flag-ship plane during World War II. Outside of Germany it was used by the air forces of Finland, Yugoslavia, Croatia, Romania, Hungary, Italy and Switzerland. Limited numbers were also sold to Russia and Japan. The basic airframe was also used in versions developed after the war in Czechoslovakia and Spain.
The name of the Bf 109 is often confusing, it is often called "Me 109", while usually all Messerschmitt aircraft are called Me. But it is correctly called Messerschmitt Bf 109. The Bf 109 was primarly designed to be a conventional fighter, but it was used as a Night Fighter, Fighter-Bomber and for reconnaissance missions as well. It was built in different variants - including a STOL Version intended for carrier operations - and all in all, over 34,000 units were built, making it the most built fighter aircraft of all times.