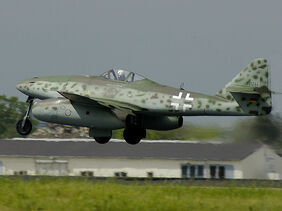 The Me 262 Schwalbe (Swallow) was the world's first jet-powered fighter aircraft.
One of the most advanced fighters in World War II, the Me 262 was introduced in 1944. In comparison to the allied fighters it was faster and it was better armed, as it used canons. 1,430 were produced, and it retired in 1957 from the Czechoslovakian Air Force.
The Me 262 did have a severe drawback however: It required a long amount of time to take off and land, and were vulnerable at these points. P-51 Mustangs would circle over Axis bases which were equipped with the M2-262, and one of two things would occur: The Me-262 pilots would take the bait and rise to the challenge, only to be strafed on take off, or they wouldn't go after the Mustangs, and get strafed. Another severe drawback of the Me-262 was that it had short engine life. After total flying time of 25 hours, the plane had to land and have it's engines stripped off and new ones put on.
Following the surrender of Germamy, the governement of Czechoslovkia recieved sufficent componants for Avia to build 19 Me 262s - 17 single seaters and a pair of two seaters. These were briefly operated by the Czechoslovk Air Force as the AVIA S 92 Turbina.[1]
Length: 34 FT 9 In
Wingspan: 41 FT 6 In
Maximum Speed: 559 MPH
Rate of Climb: 1,200 Metres/Min
Thrust to Weight Ratio: 0.28
↑

Green, William and Gordon Swanborough. The Complete Book of Fighters. Salamander Books. 2001. ISBN 0 84065 269 1 Page 40
Community content is available under
CC-BY-SA
unless otherwise noted.