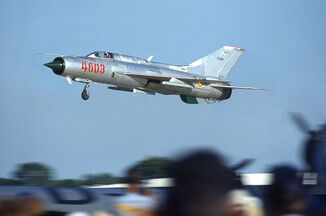 The
Mikoyan-Gurevich MiG-21 Fishbed
is a single engined Soviet second-generation jet fighter. It is in service in over 50 countries, and with over 11,000 units built, one of the most produced warplanes since World War II.
Details (MiG-21 F-13)
Edit
Length: 51 ft 8.47 in
Wingspan: 23 ft 5.66 in
Maximum speed: 1,385 mph (2,125 km/h)
Service ceiling: 62,335 ft
Range: 981 miles
Development and Preperation
Edit
Ye-1 (1954)
Ye-2 (1954, NATO name "Faceplate")
Ye-2A (1955)
MiG-23 (1957, all units reused for test programs)
Ye-4 (1955, delta wing prototype of MiG-21)
Ye-50(1956, high altitude interceptor experiment)
Ye-50A (1956, refined Ye-50)
Ye-5 (1956)
MiG-21 (1956, first production fighters, five built. Focus moved to F variant)
Mass Production
Edit
Ye-6 (1957)
Ye-50P (1958 rocket boost project, cancelled)
MiG-21F (1959, Single seat day fighter, first production plane)
Ye-6/9 (1960, nuclear strike capablity test)
Ye-6T (1958, Atoll missile system test)
Ye-6T/1 (Ye-66) (1959, Red-31, broke world speed record)
Ye-6T/1 (Ye-66A) (1961, modified Ye-66 for altitude record)
Ye-6T/2 (1961, skid landing gear testbed)
Ye-6T/3 (1961, Ye-6T with canards test)
Mig-21 P-13 (1958)
MiG-21 F-13 9 (1960)
MiG-21FR
MiG-21F-13R (1974)
Ye-6V (1961, STOL test with JATO boosters)
Generation Two (1961-1966)
Edit
MiG-21PF
MiG-21L
MiG-21PFM
MiG-21RFM
MiG-21Ye
MiG-21FL
Ye-7SPS
MiG-21PFS
Ye-7M
MiG-21PFMA
MiG-21PFMN
MiG-21RFMM
MiG-21SPS-K
Ye-7R
Mig-21R
MiG-21RF
Ye-7S
MiG-21S
MiG-21N
MiG-21PD
Generation Three (1968-1972)
Edit
MiG-21M
MiG-21MA
MiG-21I (Wing testbed for TU-144)
MiG-21 K (proposed, cancelled)
MiG-21Sh
MiG-21SM
MiG-21MF
MiG-21MT
MiG-21 SMT
MiG-21 bis
MiG-21bis-D
MiG-21bis-T
Operators
Edit
Former Soviet Union
Edit
Azerbaijan
Belarus
Kazakhstan
Kyrgyzstan
Russia
Turkmenistan
Warsaw Pact/East Europe
Edit
Bulgaria
Former Czechoslovakia (Fleet shared between Czech Republic and Slovakia following partition on 1st January 1993)
Former East Germany (Most scrapped after reunification)
Hungary
Poland
Romania
Middle East
Edit
Finland
Former Yugoslavia
The Americas
Edit
Cuba: Over 175 examples, comprising 30 MiG-21F-13s, 35 MiG-21PFMsm 20 MiG-21PFMAs, 80 MiG-21bis, at least 10MiG-21U/UMs and an unknown number of MiG-21Rs.[N 1]
United States: A number of MiG-21s were flown by the USAF under the cover designation YF-110.[2]
A MiG-21 was used for a Syrian defection on June 21, 2012.
References
Edit
↑

World Aircraft Information Files Aviation Partwork. Midsummer Books Ltd. File 209 Sheet 6 (World Military Aircraft:Mikoyan-Gurevich MiG-21 'Fishbed' - Worldwide Service)
Community content is available under
CC-BY-SA
unless otherwise noted.