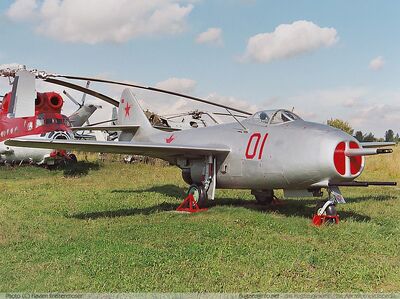 The Mikoyan-Gurevich MiG-9, NATO reporting name "Fargo," was a Soviet jet fighter developed immediatly after World War 2. A total of 610 were built, including the prototypes. Currently, only three are known to have been kept: Red 01 (Monino, Russia), White 30 (Beijing, China), and another unknown one, also found in Beijing.
Details
[
]
Length: 31 ft, 6 in.
Wingspan: 32 ft, 10 in
Wing Area: 196 ft
Maximum Speed: 534 mph (I-300) - 590 mph (I-307)
Rate of Climb: I-307: 2 min 54 sec. to 16,042 ft
​Notes
[
]
A tricycle style landing gear system was used.
Early versions lacked an ejection seat, while late variants had one.
The above-mentioned unknown MiG 9 found in Beijing has the identifying numbers "6201." It should be noted that the plane's condition has degraded drastically over time.