The MiG-35, NATO reporting name Fulcrum-F, is a further development of the MiG-29M/M2 and MiG-29K/KUB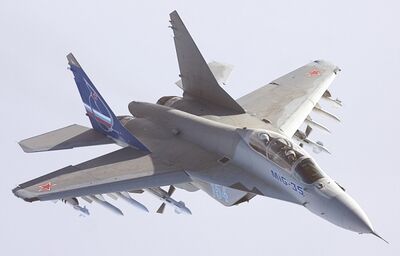 technology. The Mikoyan company classifies it as a 4++ generation jet fighter. It has a thrust to weight ratio of 1.14. Two variants of the MiG-35 are currently existing, the single seat MiG-35 and the double seat MiG-35D. The MiG-35 is currently the most advanced Mikoyan fighter aircraft.
Length: 17.3 M
Wingspan: 12 M
Wing Area: 38 M
Maximum Speed: Mach 2.25 (1,491 MPH) at altitude, 901 MPH at low level.
Rate of Climb: 330M/S
First flight 2007
Manufacturer Mikoyan
Role multi fighter 
National origin Russia
Number built 3
Community content is available under
CC-BY-SA
unless otherwise noted.