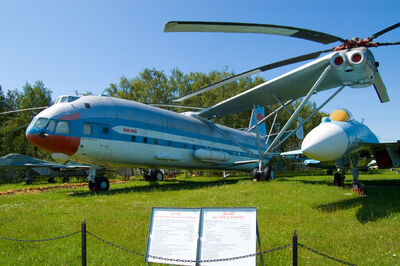 The Mil Mi-12 (NATO reporting name: "Homer") was a Soviet twin-rotor transport helicopter, and the largest ever built. It never entered production, and only 2 were made.
History
[
]
The Mi-12 was developed from Mil's earlier Mi-6 heavy lift helicpoter. Design work began in 1965, with the first prototype flying on July 10th, 1968. Despite performing extremely well and even setting a world record for lifting 88,636 lbs up 7,398 feet, the development of the aircraft stopped in 1974 since its main purpose of transporting ballistic missles was no longer necessary. Both Mi-12s and are now on display in Russia. 
Specifications
[
]
The Mi-12 was used four Soloviev D-25VF engines to power two rotors, which allowed it to reach speeds of up to 161 mph. It required a crew of 6 and could hold up to 66,000 lbs of cargo.