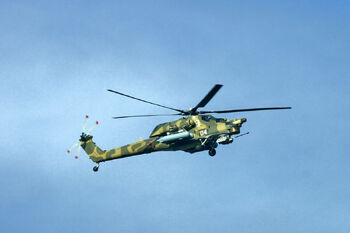 The Mil Mi-28 "Havoc" is a Russian attack helicopter manufactured by Mil Moscow Helicopter Plant. 
History
[
]
The Mi-28 design process began in 1980, as a helicopter to accompany the Mil Mi-24 with both transport and attack capabilities. The Havoc, however, would focus more on the attack role. The design was accepted in 1981, and the prototype (No. 12) first flew on November 10th, 1982. Despite the Kamov Ka-50 being chose over it as the Soviet Air Force's main attack helicopter, work on the Mi-28 continued, with production finally approved in late 1987. However, the Mi-28A, the first production variant, program was cancelled in 1993 after the aircraft was deemed inferior to the Ka-50.  
In 1995, a new variant of the Havoc with improvements including an advanced radar and improved aiming devices, the Mi-28N, was revealed. The prototype - White 014 - was rolled out of the factory on 16th August 1996, before making it's first flight on 14th November of that year. Since the Cold War had ended, the design of the Mi-28N was much more practical than it had seemed during the conflict, and it was finally adopted by the Russian Air Force in 2003. The first aircraft was delivered in 2006, with 67 planned to enter service.
In October 1995, the Swedish Army Aviation Centre evaluated Mi-28 042 against a AH-64. While impressed with the tough construction and reliable performance of the Havoc, the Swedes expressed reservations about some of the on board systems, paerticularly due to the lack of supporting technical documentation and cirtification standards.
Specifications
[
]
Powerplant: two Klimov TV-3-117VMA turboshaft engines
Top speed: 199 mph (320 km/h)
Range: 270 miles (435 kilometers)
Ceiling: 19,000 feet (5,700 meters)
Crew: 2
Empty weight: 18,960 lbs (8,600 kilograms)
Length: 55 feet 10 inches (17.01 meters)
Height: 15 feet 5 inches (4.7 meters)
Rotor diameter: 56 feet 5 inches (17.2 meters)
Armament: one chin-mounted 30 mm cannon, two pylons on each side for mounting ordnance, including rockets, gun pods, bombs, missiles, and/or mine dispensers.