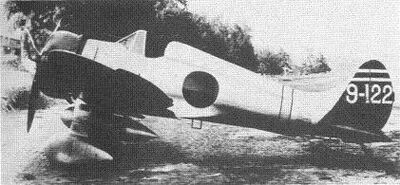 The Mitsubishi A5M (Japanese九六式艦上戦闘機, kyūjū-roku-shiki kanjō sentōki=Model 96 carrier-based fighter aircraft; allied codename "Claude") was a carrier based fighter aircraft by Mitsubishi. It was the first monoplane of the Imperial Japanese Navy.
The first flight took place on 4th February 1934, under the specification Ka-14 The first mission of the aircraft was in September 1937 against China and later against the USA, during the Japanese attack on Pearl Harbour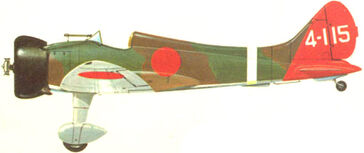 in December 1941. 788 aircraft were built by Mitsubishi, 303 additional by Watanabe and 264 by Omura under license.
The performance of the A5M exceeded all the requirements. While 305 km/h was the required top speed, the A5M reached 405 km/h during a test flight.
The first variant was the A5M1 (96 were built), and was powered by a Nakajima Kotobuki 2 KAI 2 engine (license built variant of the British Bristol Jupiter engine) with a power of 585 hp (430 kW). The successor variant was the A5M2a, with a more powerful engine (610 hp). The A5M2b, powered by a Kotobuki 2 KAI 3 engine (640 hp), was the most important Japanese fighter during the War against China. The last variant was the A5M4, equipped with a Kotobuki-41 engine with a power of 523 kW (710 hp), was used during the Pacific War against American fighters, but was declared obsolete because of inferiority in aerial combat.
Community content is available under
CC-BY-SA
unless otherwise noted.