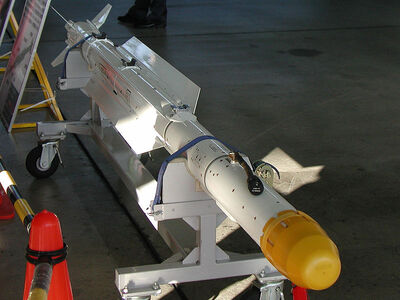 The Mitsubishi AAM-5 is a short range air-to-air missile, that was developed by Mitsubishi Heavy Industries, it is still in testing phase (XAAM-5). It was planned that the AAM-5 should have entered service in the year 2008 and that it should have replaced the AAM-3. The missile has many similarities with the IRIS-T.
First design studies for a replacement for the AAM-3 were made in the year 1991, the program was called XAAM-5. Just like earlier Japanese air-to-air missiles the AAM-5 was developed under a joint venture of Japan Defense Agency's (JDA) Technical Research and Development Institute (TRDI) and Mitsubishi Heavy Industries. First test launches began in the year 2001 by F-15 Eagle Fighters.
The service designation is known to be Type O4 and in 2004 first deliveries were made to the Japanese Air Self Defence Force (JASDF). Despite that the missile was publicly unveiled in the year 2008 it didnt appear as a listed product of Mitsubishi Heavy Industries.
Community content is available under
CC-BY-SA
unless otherwise noted.