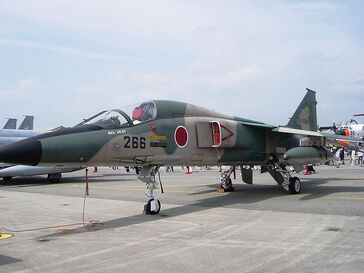 The Mitsubishi F-1 was a twin engine Japanese fighter-bomber aircraft that resembles the Anglo-French SEPECAT Jaguar.
History
[
]
Originally, it was planned to develop a new twin engine trainer aircraft, to be called T-2; the first flight of this variant took place on 20th July 1971. But later, in 1975, it was decided to redesign the aircraft into a modern Multirole fighter for the Japanese Air Self Defence Force (JASDF), with this new variant making it's first flight on 16 June 1977, with deliveries to the JASDF taking place between 26 September 1977 and March 1987.[1] The main role of the new attack aircraft, now known as the F-1, was close air-support and anti-ship warfare. The F-1 entered operational status in April 1978.
The last flight of the Mitsubishi F-1 was on 9th March 2006, in a formation of six aircraft, this flight ended the over thirty year long era of the first Japanese made fighter aircraft after World War II. The F-1 was replaced in service by the Mitsubishi F-2.
Specifications
[
]
Crew: 1
Length: 17.86 m (58 ft 7 in)
Wingspan: 7.88 m (25 ft 10¼ in)
Height: 4.48 m (14 ft 8⅓ in)
Wing area: 21.2 m² (228 ft²)
Empty Weight: 6,358 kg (14,017 lb)
Max. Takeoff Weight: 13,674 kg (30,146 lb)
Powerplant: Two Ishikawa-Harima TF40-801A turbofan engine 
Dry thrust: 22.8 kN (5,115 lbf) each
Thrust w/ afterburner: 35.6 kN (7,305 lbf) each
Max. Speed: 1,700 km/h (1,056 mph) at 11,000 m (36,100 ft and clean)
Combat Radius: 556 km (483 nmi, 346 mi)
Ferry Range: 2,870 km (1,552 nmi, 1,785 mi)
Service Ceiling: 15,240 m (50,000 ft)
Climb Rate: 118 m/s (35,000 ft/min)
Wing Loading: 645 kg/m² (132 lb/ft²)
Gun Armament: One 20 mm JM61A1 Vulcan cannon
Hardpoints: One, centerline, four underwing and two wingtip missile rails
Bomb and Missile Armament: Can carry AIM-9 Sidewinder, Mitsubishi AAM-1, Mitsubishi ASM-1/2 anti-ship missiles, JLAU-3A 70 mm rocket pods, RL-7 70 mm rockets, RL-4 125 mm rockets, Mk-82 500 lb, M117 750 lb bombs, and GCS-1.
Gallery
[
]
References
[
]
↑ World Aircraft & Systems Directory - First Edition. Brassey's (UK) Ltd. 1996. ISBN 1 85753 198 1 Page 57