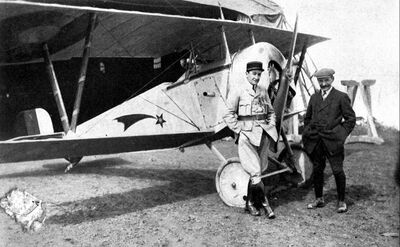 The
Nieuport 11
was a French fighter aircraft, which was used in World War I. It was introduced in 1916 and developed by Nieuport. It was built to be the answer to the "Fokker-Scourge" in 1915; it was primarily designed to counter the superior
Fokker-Eindecker
.
The design by Gustave Delage, was a smaller version of the Nieuport 10. The aircraft was a light-weight biplane with good rate of climb and manoeuvreability. It was faster than the Fokker-Eindecker and also able to outmanoeuvre it. It was nicknamed Nieuport Bébé or Nieuport Scout. A V-shaped interplane strut joined the monospar lower wing with the broader upper wing. The narrower lower wing was placed behind the upper wing. The Nieuport 11 was powered by a 59 kW Gnome-Rhône-radial engine.
The main advantage of the Fokker was its synchronized machine gun. The allied forces didn't have that technology, so that the Lewis- or Hotchkis machine gun was mounted on the upper wing. This machine gun had similar effectiveness to the Fokker machine gun.
The first aircraft were used in January 1916; in this month 90 aircraft were already built. It enjoyed air superiority. In summer 1916, the Nieuport 11 was replaced by the Nieuport 16.
Community content is available under
CC-BY-SA
unless otherwise noted.