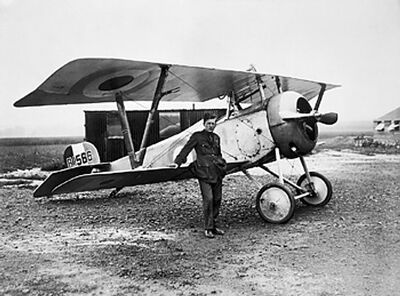 The
Nieuport 17
was a French biplane fighter aircraft; it was used in World War I and was designed by Gustave Delage. Because of its good flight performance, pilots loved flying it and it was until the appearance of the SPAD S.VII, the most successful French fighter aircraft.
The Nieuport 17 was based on the Nieuport 11. But the Nieuport 17 had a more powerful engine and bigger wings. The first aircraft were equipped with a 110 hp (82 kW) Le Rhone engine. The variant with two machine guns was powered by a Clerget radial engine with a power of 130 horsepower (97 kW). The Nieuport 17 had excellent manoeuvrability; however the lower wing got broken sometimes, if it got overstressed.
Primarily it was planned to equip it with a moveable Lewis machine gun. But with the introduction of synchronized machine guns, the Lewis machine gun was replaced by a Vickers machine gun. The aircraft was first used in March 1916 by the French Air Force over France.
Community content is available under
CC-BY-SA
unless otherwise noted.