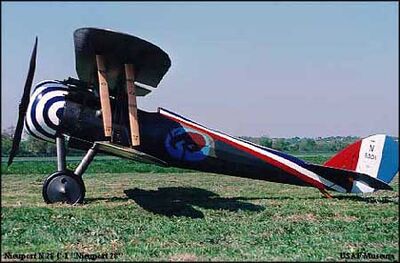 The Nieuport 28 (N.28C-1) was a French biplane fighter aircraft, which was used in World War I.
The aircraft was designed by Gustave Delage and had its first flight in June 1917. Unlike on the Nieuport 27, no V-shaped interplane struts were used, on the Nieuport 28 parallel interplane struts were used. It was powered by a Gnome 9N radial engine with a power of 160 horsepower (119 kW).
It was planned that the American and French fighter squadrons should use the Nieuport 28 in large numbers. Certainly, the French Air Force reversed the order and gave preference to the SPAD S.XIII. However the Nieuport 28 was delivered to the American Expeditionary Air Force (AEF). The AEF received 287 aircraft. It was the first aircraft that was used by the AEF in Aerial combat, during World War I. During the second mission on 14th April 1918, the AEF downed two enemy aircraft. The pilots were Alan Winslow and Douglas Campbell from the 94th Aero Squadron. Even if the Nieuport 28 became an aged plane and should be replaced by the SPAD S.XIII, the American pilots achieved much more kills than own losses. The aircraft was more manoeuvrable than the SPAD; however it had trouble with its engines. But actually it was used by many American pilots, like Quentin Roosevelt, the son of the president of the United States Theodore Roosevelt and the ace pilot Eddie Rickenbacker.
At the end of the War 600 modified N.28A.1 were ordered by the USAS. The upgraded derivative showed some changes and were equipped with a Marlin-machine gun. The aircraft were mainly used as trainer aircraft. Twelve aircraft were delivered to the US Navy, to take-off from warships. The last Nieuport 28 was retired from service in the 1930s by the Air Force of Switzerland.
Community content is available under
CC-BY-SA
unless otherwise noted.