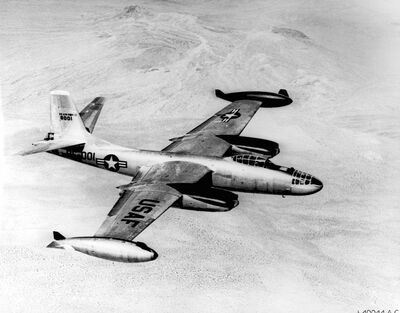 The North American B-45 Tornado was a multi engine, light-weight bomber aircraft, developed by North American Aviation for the US Air Force.
Description
[
]
The first operational jet bomber to be flown by the USAF, it was also the first bomber able to perform aerial-refueling. During the early 1950s, the B-45 was an important part of the American nuclear deterrence. The B-45 was replaced by the B-47 Stratojet.
History
[
]
The B-45 evolved from studies began at the end of World War II, in the autumn of 1944[1]; at the time the Americans noticed development of German jet bombers, such as the Arado Ar 234 and the Junkers Ju 287. w

The contract was won by North American Aviation, with the NA-130 design, on 8th December 1944.
Most of the military projects were cancelled when World War II ended, but in 1946, the Cold War against the Soviet Union started, so that the US Army Air Force decided to speed up jet bomber development. In the middle of 1946, the XB-45 and the Convair XB-46 were nearly completed, but the Boeing XB-47 and the Martin XB-48 still needed some time to finish. The US Air Force decided to chose the XB-45 over the XB-46, with production starting on 2nd January 1947. The first of the three prototypes, which had been ordered in 1945 as the XB-45 Tornado, made it's initial flight from Muroc Dry Lake on 17th March 1947, with test pilot George Krebs at the controls.[1] Unfortunately, one aircraft crashed and the two pilots died.
Because of expensive maintenance and budget cuts, only 139 aircraft were built out of the 190 planned. The last B-45 was delivered to Wright-Patterson Air Force Base.
Variants
[
]
B-45A: Original production version, totaling 96 aircraft. First entered service with the 47th Bombardment Group at Barksdale AFB in Louisiana. The first 22 examples retained the J-35-A-4 engines used in the prototypes, with the others using J47s. Last examples retired in 1958.

TB-45A: B-45s modified as target tugs, with target glider attached to reel and cable equipment in the bomb bay. Modification applied to 14 aircraft.
JB-45A: Single B-45A used by

Westinghouse

as an engine testbed.

B-45B: Projected version with revised radar and fire control.
B-45C: Uprated version comprising 10 aircraft with stronger airframe and more powerful engines for close support missions.
RB-45C: Reconnaissance version of B-45C, consisting of 33 aircraft with 12 cameras in four positions in the fuselage. Bomb bay used to carry extra fuel and 25 M122 photoflash bombs. First entered service with the 91st Strategic Reconnaissance Wing.

JB-45C: RB-45C Used as engine test bed by

General Electric

.[1]
References
[
]