North American P-51 Mustang



P-51 Mustang in flight

Description
Role
Long-range fighter[1]
Crew
1
Passengers
First flight
October 26, 1940
Entered service
January 1942
Manufacturer
North American Aviation
Produced
15,875
Dimensions
Length
32ft 2.5in
9.81m
Wingspan
37ft 0.5in
11.29m
Height
13ft 8in
4.1m
Wing area
S = 233 ft2
Weights
Empty
7,125lb
3,230kg
Loaded
Maximum takeoff
11,600lb
5,206kg
Powerplant
Engine
1 × Packard V-1650
Power (each)
1,520hp
1541.08 met hp
Performance
Maximum speed
437mph (at 25,000ft)
703km/h (at 7,620m)
Cruising speed
395mph (at 10,000ft)
635km/h (at 3,048m)
Range
(Combat) 950 miles
(combat) 1529km
Ceiling
41,900ft
12.770m
Rate of climb
3,475ft/min
1,060m/min
The North American P-51 Mustang was used in WWII by the Allies. It was mainly used as a bomber escort over Germany, but also saw action in the Pacific War. They were designed to have increased range to better suit them for these escorting duties. The P-51 became the USAF's flagship fighter in World War II.
Most of the P-51's wartime escorting trips were over Germany defending the B-17s from attack. It also saw combat in the Pacific theater against Japan. The P-51 was used in the Korean War as well, where it was renamed from P-51 (Pursuit, the former designation) to F-51 (Fighter, the modern one). It was one of the last propeller fighters to be used, being replaced by jets in later years.
Although more expensive to build, the P-51 was very durable and difficult to take down. The Japanese in World War II had trouble matching this plane, and instead built their planes to be built quickly in order to swarm the enemy. This tactic worked as long as the pilots didn't panic. The P-51 was also the first USAF Air Dominance Fighter.
World War II
Edit
At a conference during World War II, the Allies developed a plan to bomb Germany around the clock. The RAF would bomb by night, and the USAF by day. The USAF needed fighters to defend their bombers against enemy fighter planes. The P-51 Mustang was their answer. It participated in various attacks, like in the Sino-Japanese war in Hong Kong.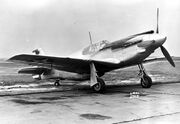 Many P-51s were fitted with cameras for photo recon duties as the F (Foto) 6.
At least 10 were fitted with a second seat in the rear of the cockpit.
References
Edit
↑

Details are for P-51D. Gunston, Bill. 1988. Pages 132-134.
Bibliography
Edit
Gunston, Bill. Illustrated Directory of Fighting Aircraft of World War II. Salamander Books. 1988.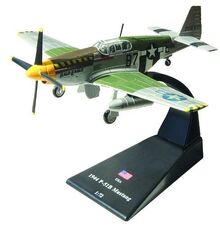 Community content is available under
CC-BY-SA
unless otherwise noted.