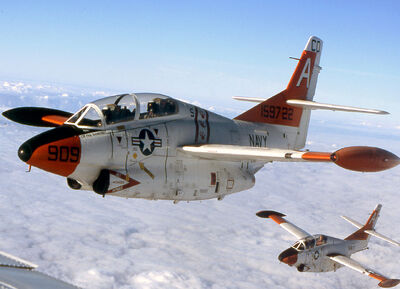 The North American T-2 Buckeye is an American trainer aircraft designed for use by the US Navy.
History
[
]
The Buckeye was designed in the 1950s and first flew on 31 January 1958. It was initially designated the T2J until the joint aircraft designation system came into effect in 1962, when it became known as the T-2. It entered service in 1959, replacing the T2V Seastar as the United States Navy and Marine Corps' inexpensive multi-stage trainer. Almost every Navy pilot during the Buckeye's service life received some kind of training in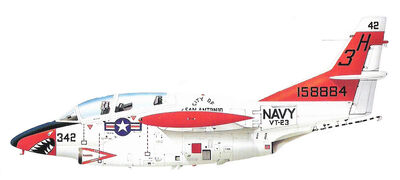 this aircraft, and it saw continuous use until 2008, when it was finally retired (replaced by the T-45 Goshawk). Several variants have been exported to Venezuela and Greece, the latter of which still operates it, and a number are now owned by civilians who operate them at air shows.
Specifications
[
]
Powerplant: Two General Electric J85-GE-4 turbojet engines
Top speed: 522 mph
Range: 1,047 miles
Ceiling: 40,400 feet
Crew: 2
Empty weight: 8,115 lbs
Length: 38 ft 3.5 in
Height: 14 ft 9.5 in
Wingspan: 38 ft 1.5 in
Armament: Two underwing hardpoints capable of carrying 320 lbs each, available 50 caliber machine gun package.