The North American X-15 was a single seat aero-space plane developed to investigate flight at hypersonic speeds.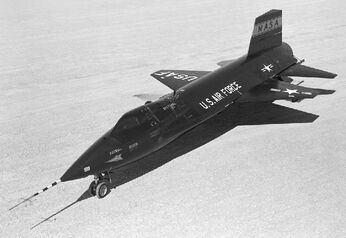 Inception
[
]
The origins of the X-15 can be traced to a meeting of an NASA committee held on 24 June 1952, which resolved that NASA's aircraft research program should be expanded to explore flight characteristics of atmospheric and exo-atmospheric designs capable of speeds between Mach 4 and Mach 10, and altitudes between 12 miles and 50 miles. This resolution provided the first substantial official support for hypersonic research, and was ratified by NASA's Executive Committee which met the following month.[1] This led to the issuing of
Official Requests for Proposals to 12 aircraft companies on 30 December 1954. This step was followed on 4 February 1955 when four engine manufacturers were invited to bid for the contract to provide the rocket motor. The airframe contract was awarded to North American for the NA-240 in November 1955, with Reaction Motors Inc. recieving the contract for the XLR-99 engine in September 1956.[2]
Construction
[
]
Three examples were built under the terms of contract AF33(600)-31693, and were allocated serial numbers 56-6670 (#1), 56-6671 (#2) and 56-6672 (#3).[1]
References
[
]
↑ 1.0 1.1 Miller, Jay. The X Planes X-1 to X-45. Midland Publishing. 2001. ISBN 1-85780-109-1 Page 173
↑

World Aircraft Information Files Aviation Partwork. Midsummer Books Ltd. File 901 Sheet 15: North American P-82 Twin Mustang (continued) to North American X-15
[

]