The Northtrop Grumman RQ-8 Fire Scout is an Unmanned Helicopter, which is developed in Rancho Bernando,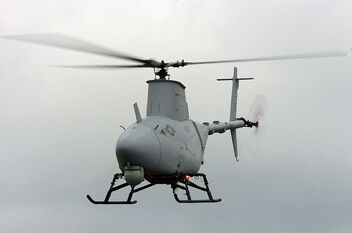 California, for the US Armed Forces. It is able to fly completely autonomous. Northtrop Grumman developed the Fire Scout to give the US Marine Corps and the US Navy enhanced reconnaissance and attack capabilities.
The first version of the Fire Scout was called RQ-8A. In August 2003 a related development, called RQ-8B, was developed only by Northtrop Grumman, after the US Navy rejected the RQ-8A. Because of it´s Multirole capabilities it was renamed to MQ-8B.
Description
[
]
The MQ-8B has a four-blade main rotor, while the RQ-8A has a three-blade rotor, the reason for the four-blade main rotor is to improve lift capability and performance. As it´s main sensor a Laser rangefinder and a Night Vision device or a Synthetic Aperture Radar with Signals Intelligence will be included. The small flaps can carry weapons or other additional payload up to 317 kg.
The first flight was on 18th December 2006 at the Naval Air Station Patuxent River. The US Navy planned to use them on their new Littoral Combat ships. The first flight with the BRITE Star II electro-optical/infrared payload was on 9th August 2008. The final derivative of the "Future Combat System" should have greater performance ( a combat radius of over 75 kilometers and the ability to take-off and land on all kind of aerias ).
Gallery
[
]