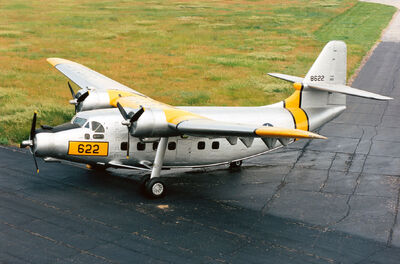 The Northrop YC-125 Raider was a tri-engined STOL transport aircraft used by the United States Air Force.
History
[
]
The Raider was developed from the N-23 Pioneer, and earlier design of Northrop's whose prototype crashed in 1947. It first flew on August 1st, 1949, and entered service the following year. However, the YC-125 had a relatively short service life, due to it being underpowered. All were retired by 1955, with only 23 built.
Variants
[
]
N-23 Pioneer: A prototype of a three-engined STOL aircraft, only one was built
N-23 Raider: Military version of the N-23
YC-125A Raider: A troop transport aircraft with space for up to thirty personnel, 13 aircraft were built
YC-125B Raider: This variant was modified for arctic rescue missions, modifications include twenty stretchers and the possibility of adding ski undercarriage. Ten aircraft were built.
Specifications 
[
]
Powerplant: three Wright R-1820-99 Cyclone radial engines
Top speed: 207 mph
Range: 1,856 miles
Ceiling: 12,200 feet
Crew: 4
Capacity: 30 troops or 20 stretchers
Length: 67 feet 1 inch
Height: 23 feet 1 inch
Wingspan: 86 feet 6 inches