Parcelair is a freight airline operating domestically in New Zealand.
Parcelair operates night-time airfreight services between Auckland, Palmerston North and Christchurch on weeknights. These flights are most prominently between Christchurch and Auckland, however. The airline also occasionally operates daytime charters between other cities in New Zealand.
The airline is a joint venture between Fieldair and Airwork, based in Palmerston North. It operates a fleet of four Boeing 737-400 Freighters leased from Airwork.
The airline was first conceived on June 25th 2015 as a 50/50 joint venture between Airwork and Fieldair. The next day, it was announced a fleet of three 737-400Fs would be bought by Airwork to operate under the Parcelair brand. The move came after concerns that Air Freight (NZ)'s ageing fleet of Convair 580s and Airwork's lone 737-300 and F27s were not keeping up with domestic shipping demands in New Zealand, with online shopping progressively becoming more of a commonplace. In addition to much needed additional capacity, the new aircraft would "reduce carbon emissions per item of freight carried" according to the Freightways Managing Director.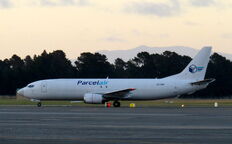 A route network would be set up between Auckland, Christchurch and Palmerston North. The latter would substitute for Wellington due to size constraints at Wellington Airport for a cargo terminal, however some charter flights by the airline have been to Wellington in the past.
The freighters were converted in America from 737-400 passenger aircraft. The first aircraft, ZK-PAK would be delivered in July of 2016, and on the 22nd of August 2016, the first flight was completed between Auckland and Christchurch. Further aircraft ZK-PAQ and ZK-PAT were delivered not long after.
Due to an unexpected growth in demand for air freight, other aircraft began to be chartered in to deal with extra loads. This was most commonly carried out by Air Chathams' recently acquired ex-Air Freight CV-580 Freighter.
During an annual report in June 2017, it was decided that Airwork would purchase another 737-400 for use by Parcelair. The fourth 737-400F, ZK-PAU was delivered in July 2018, and began operation shortly after. As of May 2019 ZK-PAU has not been painted and is temporarily operating for Toll Aviation in Australia. Toll Aviation's 737-300F and 737-400F is leased from Airwork as well.
In July 2019, the poor timing of the routine airframe checks for two aircraft saw the airline down to one plane for overnight flights. In answer to this a BAe 146-200QC from Pionair Australia was leased over a one month period from the 9th of July to the 16th of August. This lease went through despite the 146 having about half the capacity of the normally operated 737-400Fs. Air Chathams once again provided additional capacity with their singular CV-580 freighter.
Parcelair operates out of three bases in New Zealand.
Auckland.
Christchurch.
Palmerston North.
Parcelair operates an all-Boeing fleet of four Boeing 737-400 Freighters.
| Registration | Type | Status | Notes |
| --- | --- | --- | --- |
| ZK-PAK | Boeing 737-476SF | Maintenance at Auckland | First aircraft delivered. |
| ZK-PAQ | Boeing 737-476SF | In service | |
| ZK-PAT | Boeing 737-4Y0F | In service | |
| ZK-PAU | Boeing 737-4Q8F | In service with Toll Aviation | No titles or markings. |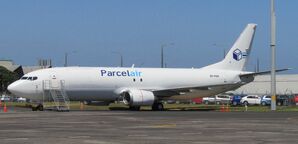 The Parcelair livery is mostly plain white, with the corporate logo on the tail and Parcelair titles in slanted two-tone text.
Airwork has two 737-400s in their possession in America bearing similar registrations to the current Parcelair aircraft before re-listment on the New Zealand roster. These are N913NZ and N902NZ. N913NZ is noted to be undergoing freighter conversion. This could mean that two more 737-400Fs are to enter the fleet in the near future.
There are also rumours floating around of Parcelair getting 757 freighters to improve capacity, due to recent acquisitions by part-owner Airwork, however this cannot be proven thus far.
Community content is available under
CC-BY-SA
unless otherwise noted.