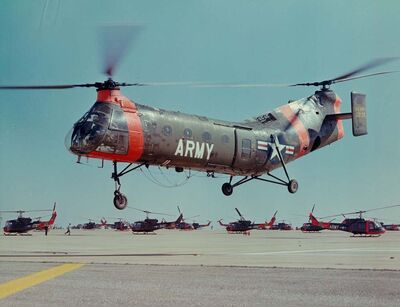 The Piasecki H-21 Workhorse, or Shawnee, was an American tandem-rotor transport helicopter manufactured by Piasecki Helicopter. 
History
[
]
The H-21 was developed as an improved version of Piasecki's eariler HRP Rescuer. It first flew on April 11th, 1952, and entered service in 1953 with the United States Air Force and Army.
The Workhorse was used extensively in the early years of the Vietnam War, primarily as a troop and supply transport. Some H-21s were even experimentally modified for attack roles, but were largely unsuccessful. However, it was largely replaced by the UH-1 Iroquois by 1964, as it did not perform well in the humid jungle environments. It was also used by the French in the Algerian War, and by the armed forces of Germany, Canada, Japan, and Sweden. attack roles, but The civilian version of the Shawnee, the Vertol 44, was used by several airlines. The aircraft was retired in 1967, with 707 built. Only one H-21, owned by the Classic Rotors Museum in Ramona, California, is still in flying condition.
Specifications
[
]
Powerplant: one Wright R-1820-103 radial engine
Maximum speed: 132 mph
Range: 400 miles
Ceiling: 19,200 feet
Crew: 2
Capacity: 20 people or equivilent weight in cargo
Empty weight: 8,950 pounds
Length: 52 feet 6 inches
Height: 15 feet 4 inches
Rotor diameter: 44 feet
Armament: two door-mounted machine guns