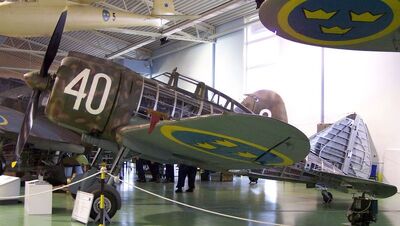 The Reggiane Re 2000 Falco was a single seat, Italian fighter aircraft, developed by Reggiane. The aircraft had a retractable undercarriage and was powered by a 14-cylinder radial engine.
Development
[
]
The Re 2000 was developed by Antonio Alessio and Roberto Longhi in the year 1937. Two years earlier, Longhi went back from the USA, where he was influenced a lot by American aircraft designs. So that his aircraft, the Re 2000, showed many similarities with the American Seversky P-35 and it had many differences with its Italian predecessors. The maiden flight of the prototype took place on 24th May 1939.
Another difference to most of the earlier Italian aircraft, besides the Macchi C.200, was that it was designed to achieve high speeds, but its manoeuvrability and aerodynamic performance was exceptional good as well.

Operators
[
]
Germany

Italy

Hungary

Sweden
Prospective customers
[
]
Aside from the four countries which operated the Re 2000 several others had shown interest in purchasing the aircraft, they were unable to purchase the Re 2000 because of the outbreak of WW2, these were:
Finland

Spain

Switzerland

UK

Yugoslavia