The Royal Aircraft Factory S.E.5 was a British biplane fighter aircraft of the First World War.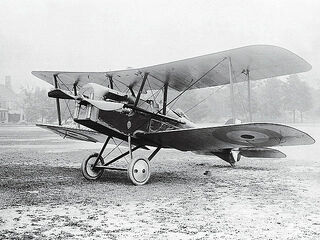 Design and development
[
]
The S.E.5 (Scout Experimental 5) was designed by Henry P. Folland, John Kenworthy and Major Frank Goodden of the Royal Aircraft Factory in Farnborough. It was built around the new 150 hp (112 kW) Hispano-Suiza 8a V8 engine that, while providing excellent performance, was initially under-developed and unreliable. The first of three prototypes flew on 22 November 1916. The first two prototypes were lost in crashes (the first killing the chief test pilot at the Royal Aircraft Factory, Major F. W. Goodden on 28 January 1917) due to a weakness in their wing design. The third prototype underwent modification before production commenced; the S.E.5 was known in service as an exceptionally strong aircraft which could be dived at very high speed – the squarer wings also gave much improved lateral control at low airspeeds.
Like the other significant Royal Aircraft Factory aircraft of the war (B.E.2, F.E.2 and R.E.8) the S.E.5 was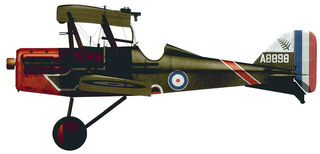 inherently stable, making it an excellent gunnery platform, but it was also quite manoeverable. It was one of the fastest aircraft of the war at 138 mph (222 km/h), equal at least in speed to the SPAD S.XIII and faster than any standard German type of the period.
While the S.E.5 was not as agile and effective in a tight dog fight as the Camel it was much easier and safer to fly, particularly for novice pilots. The S.E.5 had one synchronised .303-in Vickers machine gun to the Camel's two, but it also had a wing-mounted Lewis gun on a Foster mounting, which enabled the pilot to fire at an enemy aircraft from below as well as providing two guns firing forward. This was much appreciated by the pilots of the first S.E.5 squadrons as the new hydraulic-link "C.C." synchronising gear for the Vickers was unreliable at first. The Vickers gun was mounted on the forward left dorsal surface of the fuselage with the breech inside the cockpit. The cockpit was set amidships, making it difficult to see over the long front fuselage, but otherwise visibility was good. Perhaps its greatest advantage over the Camel was its superior performance at altitude, making it a much better match for the Fokker D.VII when that fighter arrived at the front.