Ryanair
is an Irish low-cost airline based in the Dublin International Airport. It's currently managed by Irish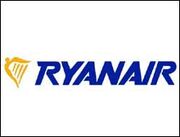 businessman Michael O'Leary.
Ryanair Fleet
Aircraft
In Service
Orders
Passengers
Notes
Boeing 737-800
299
175
189
Deliveries 2014 – 2018.

75 older models to be phased out.
Controversy
Edit
In 2009, Ryanair purposed a new way to room passengers by stand-up flying in special seats for flights no longer than 90 minutes, however the new proposal never got approvement from aviation autorities, which as always caused serious statesments from O'Leary saying that seatbelts on planes were useless.
Accidents and incidents
Edit
On September 17th, 2012 a Ryanair flight had an emergency landing in Rome after reporting that most of passengers were bitten by a swarm of bedbugs that unexplainably were aboard the aircraft. All of those passengers were inmediately taken to the hospital.
Community content is available under
CC-BY-SA
unless otherwise noted.