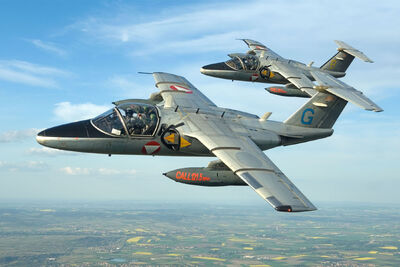 The SAAB 105 is a Swedish twin engine trainer aircraft manufacured by the Saab Group.
The 105 was designed as a replacement for the Swedish Air Force's de Havilland Vampires. Saab developed it privately in the early 1960s, with it first flying on 29 June 1963. Four years later, it entered service as a military trainer under the designation SK 60. Forty 105s were also imported to Austria, where the were called the 105 OE. The aircraft continues to see use today, and even serves in several display teams. A total of 192 were built.

Powerplant: 2 General Electric J85-17B turbojet engines
Top speed: 970 km/h
Range: 2,300 km
Ceiling: 
Crew: 2
Empty weight: 2,849 kg
Length: 10.8 m
Height: 2.7 m
Wingspan: 9.5 m
Armament: 6 hardpoints capable of carrying various types of ordnance
Community content is available under
CC-BY-SA
unless otherwise noted.