The Saab 35 Draken (Dragon) is a single engine fighter aircraft, developed by Saab for the Swedish Air Force. It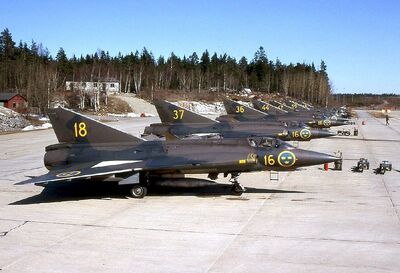 replaced the Saab 29 Tunnan and the Saab 32 Lansen.
Development
[
]
In 1949 the Flygvapen (Swedish Air force) issued a draft operational requirement for an interceptor aircraft to replace the Saab J29, which had only made it's first flight the previous year. The new type was intended to provide air defense against bombers, which required a level flight speed in the Mach 1.4-1.5 range (later increased to Mach 1.7-1.8), a high rate of climb and the ability to operate from the same locations as the J29.[N 1]
Saab selected a twin-delta configuration for a small and lightweight aircraft. Wind tunnel testing supported the aircraft's usability, what was proven by a smaller Draken called Saab 210 Lill-Draken in 1952. After that, the Swedish Air Force ordered a mock up of Saab's propasal, designated Saab J 35 Draken, in March 1952, followed by three prototypes and three pre series examples ordered in August 1953.[1]
The first flight of a prototype was on 25th October 1955, with the second prototype joining the test programme in January 1956, with the third following in March; the three aircraft were all powered by imported British built Rolls-Royce Avon 200 engines. these led to the first operational aircraft, with the first operational Saab J 35A Draken taking to the skies on 15th February 1958, powered by the Svenska-Flygmotor-RM6B-engine (license built derivative of the Rolls-Royce Avon 200 engine).[1]
Operational Service
[
]
Sweden
[
]
The first Saab 35s to enter operational service were J35As received by F13 at Norrkoping during March 1960. As well as F13, the 90 examples of the J35A served with F16 at Uppsala and the Draken Operational Conversion unit, with 25 examples subsequently being converted into SK35C two seat conversion trainers.[2]
Gallery
[
]
References
[
]
Notes
[
]
Sources
[
]